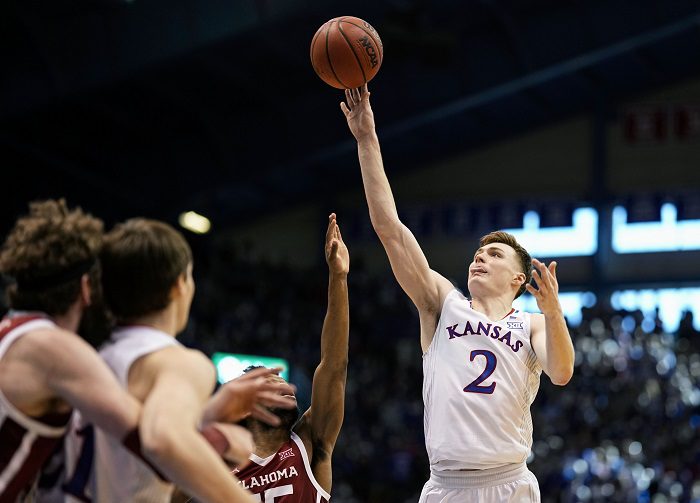 The Kansas Jayhawks remained No. 1 in the Heartland College Sports Big 12 men's basketball power rankings after Week 15 of the 2021-22 season.
Our Power Rankings will appear every Monday.
1. KANSAS (22-4, 11-2) (Last Week: 1)
Kansas keeps rolling, with wins over Oklahoma State and West Virginia, a couple of teams that have been nightmares for them in the past. They're not just leading the conference standings. They're a presumed No. 1 seed in the NCAA Tournament.
2. TEXAS TECH (21-6, 10-4) (Last Week: 2)
The Red Raiders beat Baylor and Texas last week, and they are now 5-1 against the Bears, the Longhorns and the Kansas Jayhawks. Texas Tech is a double overtime loss to Kansas away from leading the Big 12.
3. BAYLOR (22-5, 10-4 in Big 12) (Last Week: 3)
Let's hold the Bears steady after a 1-1 week in which it lost to Texas Tech but beat TCU without Adam Flagler and LJ Cryer. The Bears are injury riddled right now, but in the eyes of the NCAA Tournament Committee the Bears are still a Top 4 seed — for now.
4. TEXAS (19-8, 8-6) (Last Week: 4)
Texas beat Oklahoma in overtime and then lost to Texas Tech at home last week. The Longhorns are the clear No. 4 team in the Big 12. But there's a significant gap between the Longhorns and the Top 3, thanks to an inconsistent offense. Texas' defense is as good as anyone's in the country.
5. IOWA STATE (18-9, 5-9) (Last Week: 10)
The Cyclones needed that. The road win at TCU was the best they had looked in a couple of weeks. Then they went home and took care of Oklahoma. The Cyclones have a favorable schedule and a clear path to 20 wins before the Big 12 Tournament. That should be enough to let them dance.
6. OKLAHOMA STATE (13-13, 6-8) (Last Week: 8)
The Cowboys split for the week, losing to Kansas and then beating Kansas State in overtime. With games against Oklahoma and Iowa State down the stretch, the Cowboys can influence which bubble teams make it to March Madness.
7. KANSAS STATE (14-12, 6-8) (Last Week: 5)
Kansas State was rolling, but then the Wildcats had to go squander a potential win against Oklahoma State after beating West Virginia at mid-week. Half of the Wildcats' remaining games are against ranked teams. The other half are against teams desperate for wins so they can go dancing, too.
8. TCU (16-8, 5-7 in Big 12) (Last Week: 6)
In my mailbag on Friday, I wrote that TCU was the team most likely to play its way out of the NCAA Tournament field. Well, the Horned Frogs have lost three straight and they still have six games left — four against ranked teams. It's starting to look dicey for TCU.
9. OKLAHOMA (14-13, 4-10) (Last Week: 7)
The overtime loss to Texas hurt. The loss to Iowa State REALLY hurt. The Sooners are looking more and more like an NIT team. The Sooners have lost three straight and six of their last seven. OU's chances may come down to winning its last three games.
10. WEST VIRGINIA (14-12, 3-11) (Last Week: 9)
The Mountaineers lost a pair last week, falling to Kansas State and Kansas. There's some runway left for the Mountaineers to avoid a losing season and, based on that Kansas game on Saturday, some fight left in the Mountaineers.
You can find Matthew Postins on Twitter @PostinsPostcard.