Football
2022 Big 12 Running Backs: Heisman Hopefuls and Rising Stars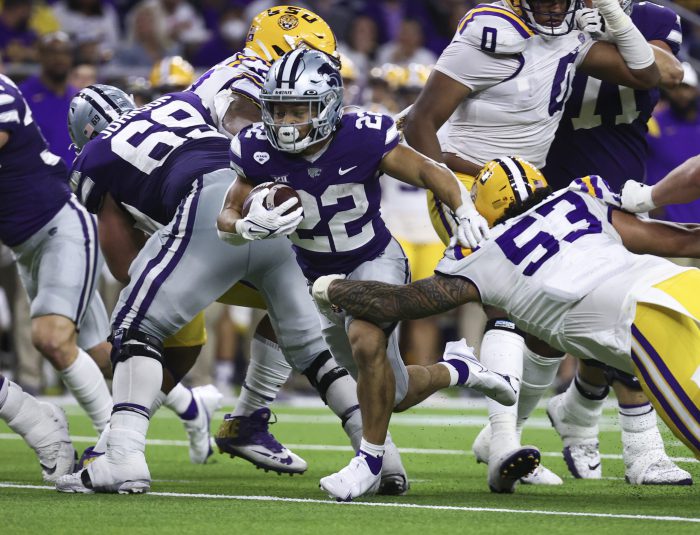 Despite the fact that the Big 12 is primarily known for cranking out NFL quarterbacks, the conference has always produced a large number of bruising and fleet-footed rushers. Recently, the running back position has undergone something of a renaissance in the Big 12 along with the rise of stouter defenses in the league.
Several of the Big 12's top running backs are headed to the draft this offseason, including Iowa State's Breece Hall, Baylor's Abram Smith, Oklahoma State's Jaylen Warren, Oklahoma's Kennedy Brooks, Texas Tech's SaRodorick Thompson, and WVU's Leddie Brown. Disappointingly, one of the Big 12's most promising running backs of 2021, TCU's Zach Evans, has transferred to Ole Miss (where I'm sure he'll find the going much easier against paper tiger SEC defenses).
Despite all the departing talent, the Big 12 is still loaded with running backs – some of which are already stars, and some which are on the cusp of becoming so – and there are sure to be new starters and contributors that will grab headlines and strike fear into defenses as the 2022 season goes along.
Here's a look at how the running back position looks for the Big 12 heading into spring ball.
HEISMAN HOPEFULS
While we never know what might happen in the course of the season, there are currently two Big 12 running backs with the national name recognition and skills to be considered Heisman hopefuls: Texas' Bijan Robinson and K-State's Deuce Vaughn.
Both Robinson and Vaughn are elite running backs who can break games open with their rushing and receiving abilities, and both will likely be high draft picks in the 2023 NFL draft despite only being juniors.
Bijan Robinson – Texas
Over the past two seasons, Robinson rushed for 1,830 yards and 15 TDs on 281 carries (6.5 yards per carry) and added another 491 yards and six TDs on 41 receptions. Robinson's numbers would surely be gaudier if he had been utilized more during his freshman season and if his sophomore season hadn't been cut short by injury.
Deuce Vaughn – Kansas State
Meanwhile, Vaughn has been K-State's go-to man since he stepped foot on campus. Since the 2020 season, Vaughn has rushed for 2,046 yards and 25 TDs on 358 carries (5.7 yards per carry) and added 902 yards and six TDs on 74 receptions. Vaughn, known for his small stature and big-time all-purpose play, is on pace to outrun a similar K-State running back from the past, NFL legend and College Football Hall of Famer, Darren Sproles.
RISING STARS
Kansas' Devin Neal, TCU's Kendre Miller, and Texas Tech's Tahj Brooks headline a list of up and coming running backs in the league. The trio flashed All-Big 12 potential last season and will look to make their mark on the league in 2022.
Devin Neal – Kansas
Neal took over as KU's featured back following a breakout performance against Duke last season. He rushed for 707 yards and eight TDs on 158 carries (4.5 yards per carry) last season. Kansas has beefed up its running back room in the offseason, but Neal should be the main man in Lawrence.
Kendre Miller – TCU
Miller split time with Zach Evans last season and got a few starts when Evans was out of the lineup after playing sparingly as a true freshman in 2020. Over the past two seasons, Miller has rushed for 1,011 yards and nine TDs on 137 carries (7.4 yards per carry). With Evans off to face the cream puffs in the SEC, Miller may be set for a big 2022 campaign.
Tahj Brooks – Texas Tech
Brooks is a smaller back who actually led the Big 12 in rushing at one point early last season, and the season was something of a breakthrough one for him. While durability may be an issue, there's no denying that Brooks can be explosive. Over the past two seasons, Brooks has rushed for 823 yards and 11 TDs on 156 carries (5.3 yards per carry).
The Known Unknown
Of course, there are many running backs waiting for their chance to thrill us on Saturdays this season. While the five running backs mentioned above are almost sure to have a big impact on next season, there are others we have yet to know much about who will also make a splash.
Remember, when 2021 began, Jaylen Warren was seen as one of several possible options in an apparent running back by committee approach. Also when the 2021 season began, Abram Smith wasn't on anyone's radar as a potential Big 12 rushing leader.
No one knew much about Bijan Robinson until the end of the 2020 season, and entering the 2020 season, even die-hard K-State fans had no idea that Deuce Vaughn would become a phenomenon who legitimately conjures comparisons to Darren Sproles.
Much remains unknown. However, we can bank on the Big 12 producing new stars at the running back position in 2022.