Big 12 News
BYU's 2023 Football Schedule Getting Adjusted for Big 12 Move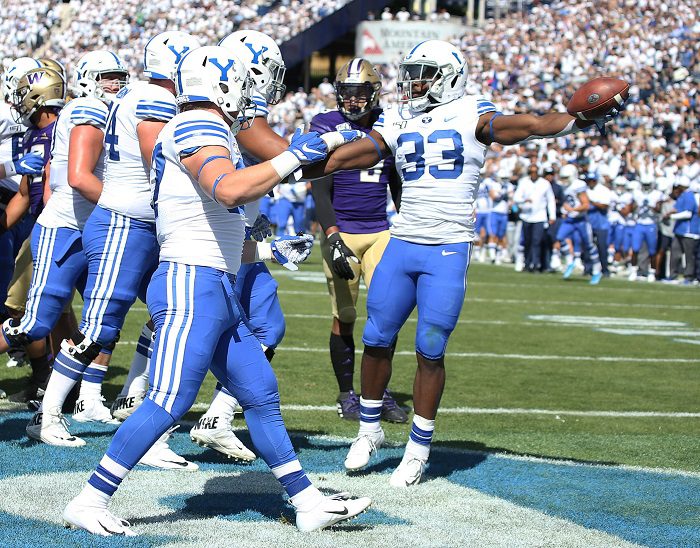 Last summer Oklahoma and Texas dropped what could be the biggest bombshell in college football history when the schools decided to pledge allegiance to a new conference: the SEC.
In a time when it was almost a certainty that the Big 12 wouldn't survive this news, Bob Bowlsby strapped his boots up and went to work, adding four teams to his conference by way of BYU, Cincinnati, Houston, and UCF.
Three of those schools with come over from the AAC, making a relatively smooth transition into the Power Five. They can keep their nonconference schedule pretty much the same and their conference games will be easy to schedule when the move is made in 2023.
The other school, BYU, will be playing football in a conference for the first time since 2010 when they were a member of the Mountain West. This means that they have filled their schedule with 12 non-conference games every year as an independent since then, but that is all about to change.
One of the limiting factors for making quick moves in college football is scheduling, particularly the nonconference games. These games are scheduled years, sometimes more than a decade, in the future and they can throw quite the wrench into plans. In preparation for coming to the Big 12, BYU is in the process of dealing with their 2023 schedule, which had already been filled with 12 non-conference games.
Now, that list has been cut down to eight games and will eventually be widdled down to just three, because the Cougars are likely to play nine conference games and three non-conference games according to a report by Dennis Dodd back in January.
Here is what currently remains of BYU's 2023 schedule:
(H) Tennessee – September 2, 2023
(A) Utah State – Date TBD or Cancelled
(A) Arkansas – September 16, 2023
(H) Rice – September 29, 2023
(H) UNLV – November 4, 2023
(A) UCF – November 11, 2023
(H) Southern Utah – November 18, 2023
(A) USC – November 25, 2023
* (H) represents home games, (A) represents away games
The first thing that pops out on the schedule is two meetings with SEC foes, one of them being at home against Tennessee. It's hard to imagine they will drop that game from the schedule, and the game against Arkansas was recently moved to Sept. 16 instead of Sept. 23, seemingly to fit into BYU's new scheduling structure. If BYU keeps those games, which I would expect them to do, who will be that third and final non-conference game?
It likely won't be another Power Five opponent, as the combination of a Big 12 schedule and the two SEC games will make this schedule one of the toughest in the country. It is probable that BYU retains a game with Utah State, Rice, UNLV, or Southern Utah. This will give them a more manageable opponent that they can hone their skills against before heading into their first Big 12 slate. However, that isn't set in stone and we will have to wait and see how things play out over the coming months.