Big 12 Previews
Kansas State vs. Texas Women's Basketball: Preview and Prediction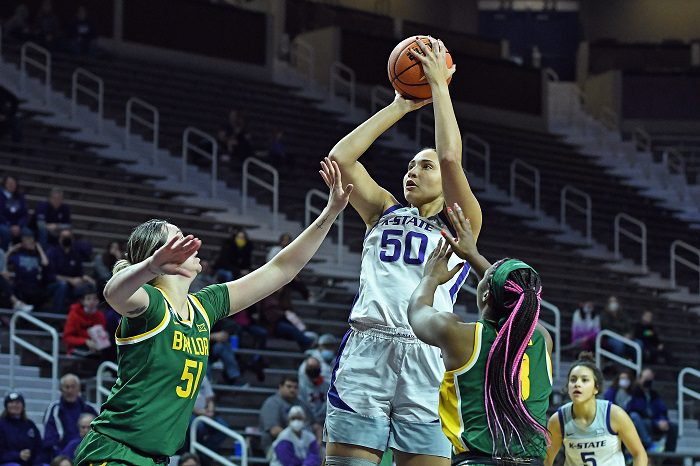 Here is everything you need to know about the Texas Longhorns and the Kansas State Wildcats in our Texas vs. Kansas State Big 12 women's basketball preview.
Game Info
6:30 p.m. Central Time, Wednesday, Feb. 23, 2022, Bramlage Coliseum, Manhattan, Kansas.
TV: Big 12 Now/ESPN+
Records: Texas: 19-6 (9-5 in Big 12); Kansas State: 18-8 (8-6 in Big 12).
Ranking: Texas: No. 11 (Associated Press; Kansas State: None
Last game: Texas: def. West Virginia, 67-58 (Feb. 19); Kansas State: def. Oklahoma State, 56-38 (Feb. 19).
Previous meeting: Texas 66, Kansas State 48 (Jan. 26).
Player to Watch
Texas
G Rori Harmon: Harmon was just named the Big 12 Freshman of the Week for the fourth time this season, and she appears to be playing her best basketball of the season right now. Last week, Harmon led Texas with 19.5 points in two wins. In the win against No. 6 Iowa State, she had 20 points, six rebounds, nine assists and six steals, becoming the first Big 12 player with at least those totals in each category since 2001. On Sunday, she had 19 points, eight rebounds and seven assists in a win at West Virginia. There are plenty of reasons why head coach Vic Schaefer is so high on Harmon's future in Austin.
Kansas State
C Ayoka Lee: The 6-foot-6 junior has slowed down a bit since her NCAA-record 61-point effort against Oklahoma. But, she's still key to the Wildcats' success now and in March. She's coming off a 17-point, 13-rebound effort over OSU, a game in which the Wildcats held the Cowgirls to 38 points. So, Lee only needed to play 28 minutes. But Lee is still averaging a double-double — 23.5 points and 10.5 rebounds — along with leading the Wildcats in blocked shots (81) and tied for first with Brylee Glenn with 32 steals. Want to stop the Wildcats? You have to slow her down.
Key storylines
Texas
The Longhorns have some runway to improve their standing in the Big 12 with five games remaining. Texas won't face a ranked team — though Kansas State and Kansas are both NCAA Tournament-caliber teams and the Jayhawks beat the Longhorns in Austin earlier this season. If Texas can win out, there's a good chance the Longhorns could find themselves as the No. 3 seed in the Big 12 Tournament, and while it's unlikely that Texas could avoid both Baylor and Iowa State to win the title, being a No. 3 seed could be helpful, depending upon what happens when Baylor and Iowa State play next week. If you're looking ahead, you'd rather wait to play Baylor later on than Iowa State. After all, Baylor swept Texas, but Texas swept Iowa State. The rotation changes that Schaefer made two weeks ago have worked like a charm. The Longhorns haven't looked this good on offense since December.
Kansas State
When Kansas faced the Longhorns the first time, the Wildcats were in the AP Top 25. The Longhorns solved the Wildcats that night, holding Lee to 20 points and 11 rebounds (when you're talking about Lee, you'll take that if you're the opponent). Since then, the Wildcats have gone 3-3. Kansas State's wins have been over teams that have losing records overall. The losses have been to ranked teams or likely NCAA Tournament teams — Baylor, Iowa State and Kansas. While Lee is the only Wildcat that averages double figures, the freshman trio of guards Serena Sundell, Brylee Glenn and Jaelyn Glenn have all been Big 12 Freshmen of the Week and all are dangerous offensively if you leave them alone.
Fun fact
While Texas leads the series, 26-17, the Longhorns are only 10-9 at Bramlage Coliseum. Texas is, however, 7-3 in the last 10 matchups. K-State's last win in Manhattan was Jan. 16, 2019, when the Wildcats beat the Longhorns, 87-69.
Prediction
Texas 67, Kansas State 60. Texas really is playing its best basketball of the season right now. I'm interested to see how Kansas State measures up to this challenge.
You can find Matthew Postins on Twitter @PostinsPostcard.