Big 12 News
Oklahoma Still No. 1 in Latest USA Softball Top 25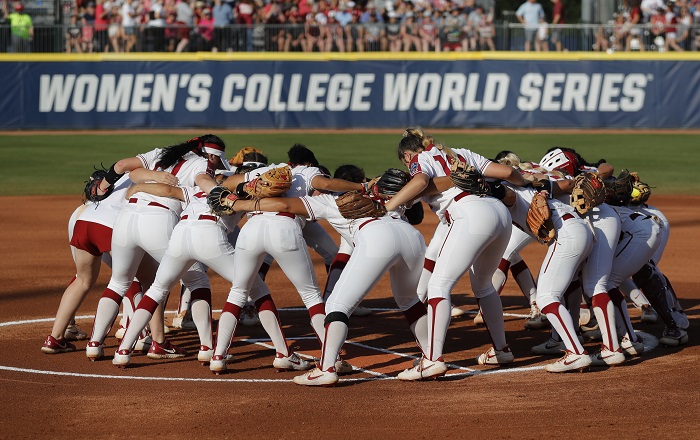 No one in the sport of softball has looked as dominant as the Oklahoma Sooners through ten games, and this is why they sit atop the Week 2 edition of the USA Softball Top 25 Poll.
Receiving 24 out of 25 votes, OU was nearly unanimous two weeks in a row but an impressive week from Florida State pulled one voter away from the Sooners. With a run ratio of 95-2 and a team ERA of 0.00, it's pretty hard to argue who looks like the top dogs in College Softball through two weeks of play.
After struggling in the St. Pete Clearwater Elite Invitational, Oklahoma State and Texas fell in the poll, but both managed to stay in the Top 25. The Cowgirls fell from No. 7 to No. 12 after going 2-3 this weekend, while the Longhorns plummeted from 9th to 24th after going 0-5 in the tournament.
Iowa State, who received one vote in last week's poll, has now received 11 votes and is on the cusp of entering the Top 25 after an 8-1 start to the 2022 season. The Lady Cyclones are scoring runs at will and are on fire heading into a tough weekend where they will face No. 6 UCLA and No. 5 Washington.
So far, the Big 12 has been as surprising a conference as there has been in softball and it's getting harder by the week to determine the hierarchy of the conference before Big 12 play starts. Things should start to become more clear as we round into March and it will certainly be fun to see how the Big 12 performs against upcoming opponents.
Here is a look at the entire ESPN.com/USA Softball Collegiate Top 25:
1. (24) Oklahoma (10-0)
2. Alabama (9-0)
3. (1) Florida State (10-0)
4. Florida (10-0)
5. Washington (9-1)
6. UCLA (7-3)
7. Virginia Tech (8-2)
8. Arkansas (7-3)
9. Clemson (6-3)
10. Arizona (7-2)
11. Oregon (8-1)
12. Oklahoma State (6-4)
13. Duke (8-2)
14. Kentucky (9-1)
15. Northwestern (7-2)
16. Michigan (5-4)
17. Tennessee (6-3)
18. Georgia (9-2)
19. Missouri (8-3)
20. Louisiana (6-0)
21. Auburn (9-1)
22. Arizona State (7-3)
23. LSU (6-5)
24. Texas (5-6)
25 USF (6-2)
Dropped Out: UCF

New to Poll: South Florida
Receiving Votes: Texas A&M (42), UCF (39), Notre Dame (30), Wisconsin (10), Illinois (8), Minnesota (8), BYU (7), James Madison (6), Baylor (3), San Diego State (3), Stanford (3), Oregon State (2), LMU (1)