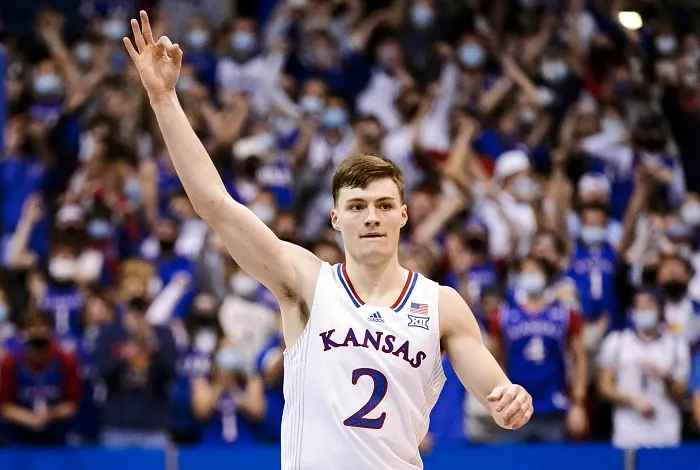 The Kansas Jayhawks defeated the Kansas State Wildcats, 102-83, in a Big 12 men's basketball game at Allen Fieldhouse in Lawrence, Kansas, on Tuesday.
Kansas (23-4, 12-2) crept a little closer to claiming the Big 12 regular-season crown and played an incredible evening of offense, led by guard Ochai Agbaji, who scored 23 points. Guard Christian Braun scored 20 points, forward Jalen Wilson scored 17 points and forward Mitch Lightfoot scored 13 points.
Kansas State (14-13, 6-9) played a solid game, hitting nearly 50 percent of their shots. But it made no difference in this edition of the Sunflower Showdown. Five different Wildcats hit double figures, led by guard Markquis Nowell, who had 20 points. Guard Nijel Pack, forward Selton Miguel and guard Mike McGuirl each and 13 points, while forward Mark Smith added 11 points.
Here are our three thoughts from the game.
Kansas' 'Perfect' Evening
I've seen some great starts by Big 12 teams this season. Heck, on Monday night, both TCU and West Virginia got off to great starts, shooting better than 60 percent from the floor for a significant stretch of the first half. But neither could sustain it.
What Kansas did on Tuesday night wasn't perfection. But, from a basketball standpoint, you're not going to get much closer.
Kansas shot 64 percent from the field. What's interesting is that their first- and second-half split was close to identical — 62.9 percent in the first half and 65.5 percent in the second half. The Jayhawks were 62.5 percent from the 3-point line and 55.9 percent from the free-throw line. But Kansas only got to shoot nine free throws.
It all led to history in the Sunflower Showdown game. It was just the second time Kansas scored at least 100 points against Kansas State in 297 meetings. The other was in 2002, when Kansas won, 103-68.
On many nights, the 83 points that Kansas State scored will win you a Big 12 game.
Not Tuesday night. Kansas played, perhaps, the best offensive game of any Big 12 team in conference play this season.
Can Kansas State REALLY Get to March Madness?
The Wildcats played a good game on Tuesday. But they needed a great game to beat the Jayhawks, especially considering how well Kansas shot the ball. Based on that alone, it just wasn't happening.
In the lead-up to the game, Kansas State coach Bruce Weber said he believed his team could "do some damage" in the NCAA Tournament. Even Kansas head coach Bill Self made a case for the Wildcats to make it.
A game like Tuesday won't help Kansas State's case, but it was unlikely they would win on Tuesday anyway. The Wildcats hadn't won in Lawrence since 2006.
But, now that Kansas State is just one game above .500 overall and 6-9 in Big 12 play, well, what's left?
During the broadcast, ESPN reference their bracketologist, Joe Lunardi, who told them that Kansas State needed to win two of its last three games to "even be in the discussion."
Kansas State faces Iowa State on Saturday, followed by next week's games against Texas Tech and Oklahoma. Now, Kansas State beat Texas Tech earlier this season, but that game was in Manhattan. The Wildcats get the Cyclones and the Sooners at home. To me, those are their best shots at the two wins Lunardi says they need.
In that case, K-State would be 16-14 going into the Big 12 Tournament, where I personally think the Wildcats still need one more win to be a part of the discussion on Selection Sunday.
If Kansas State does all of that, and STILL doesn't make it, the Wildcats will lament that loss to Oklahoma State last Saturday, or even that loss to Kansas in Manhattan in January, as what sends them to the NIT.
Those Kansas Unis
You saw them, but here's a closer look at what Kansas was wearing during the game on Tuesday.
The Jayhawks wore the uniforms to honor LaVannes C. Squires.
Kansas and Kansas State used their two Sunflower Showdown games to honor two players that broke the color barriers at their respective programs —Squires of Kansas and Gene Wilson of Kansas State. Both teams wore shooting shirts honoring the two players before both games, and Kansas wore those special uniforms.
Squires lettered three seasons at KU from 1952-54 under head coach Phog Allen. He appeared in 33 games in his career. In 1950-51 Squires earned KU's Freshman Basketball Award. With Squires on the team, Kansas won the 1952 NCAA championship, three Big Seven regular-season titles and two Big Seven Holiday Tournaments.
You can find Matthew Postins on Twitter @PostinsPostcard.