Baylor Bears
Baylor Remains No. 1 in Big 12 Women's Power Rankings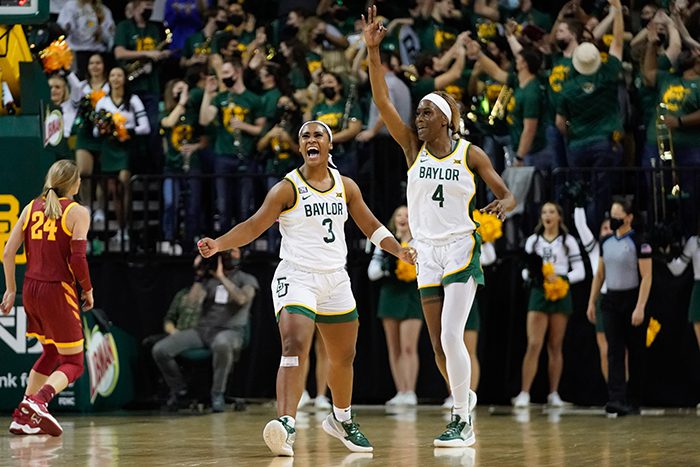 The Baylor Bears remained No. 1 in the Heartland College Sports Big 12 women's basketball power rankings for Feb. 22. Our Power Rankings will appear every Tuesday.
1. BAYLOR (21-5, 11-3; Last Week: 1)
Not a hard decision. The Bears have won six straight and basically cruised through a 2-0 week with two games against TCU. This Saturday's game with Kansas could be intriguing, especially since the game was so close when they met in Lawrence.
2. TEXAS (19-6, 9-5 in Big 12; Last Week: 3)
Texas moves up a spot after two more wins, one of which came against Iowa State. The Longhorns have four games left and freshman guard Rori Harmon isn't playing like a freshman anymore. Her first career triple-double is coming.
3. IOWA STATE (22-4, 11-3; Last Week: 2)
The Cyclones have to move back a spot this week. I mean, you can't lose that way to Texas and stay at No. 2, no matter how impressive the win over Oklahoma was. Ashley Joens is now etched in Iowa State history and she has time to add to it.
4. KANSAS (19-5, 10-4; Last Week: 5)
Kansas has the longest win streak in the Big 12 right now at seven games and looks locked in to reach the NCAA Tournament for the first time since 2013. Tip your hat to head coach Brandon Schneider and the Jayhawks.
5. OKLAHOMA (20-6, 9-5) (Last Week: 4)
The Sooners are now on a three-game losing streak and have given up 90 points per game in their last four games. The Sooners have a defensive problem. The only reason they don't drop further here is because there's clear separation between the Sooners and the rest of the teams below.
6. KANSAS STATE (18-8, 8-6; Last Week: 6)
The Wildcats had a week off to get their act together after losing three of four games, and the Wildcats easily handled Oklahoma State. Now, things get tougher with Texas coming to town. But, the Wildcats still look firmly in the NCAA Tournament.
7. TEXAS TECH (10-15, 3-11; Last Week: 9)
The Lady Raiders may not be going anywhere beyond the Big 12 Tournament. But, boy they're fun to watch. And, after beating Oklahoma last week, Krista Gerlich's team has beaten three Top 25 teams this season.
8. OKLAHOMA STATE (8-15, 3-11; Last Week: 7)
The Cowgirls had the week off after their upset over Texas Tech, and they couldn't make it three wins in a row when they faced Kansas State on Sunday. Three of the Cowgirls' last four games are against ranked teams.
9. WEST VIRGINIA (11-13, 4-10; Last Week: 8)
You can't help but think if the Mountaineers still had KK Deans they might have a chance to finish at .500 or better. And, yet, this team keeps fighting and getting quality play out of several players, many of whom will be back next season.
10. TCU (6-17, 2-12; Last Week: 10)
The Horned Frogs have Oklahoma, Texas, Texas Tech and Kansas State left. TCU may not be able to dig its way out of this spot.
You can find Matthew Postins on Twitter @PostinsPostcard.