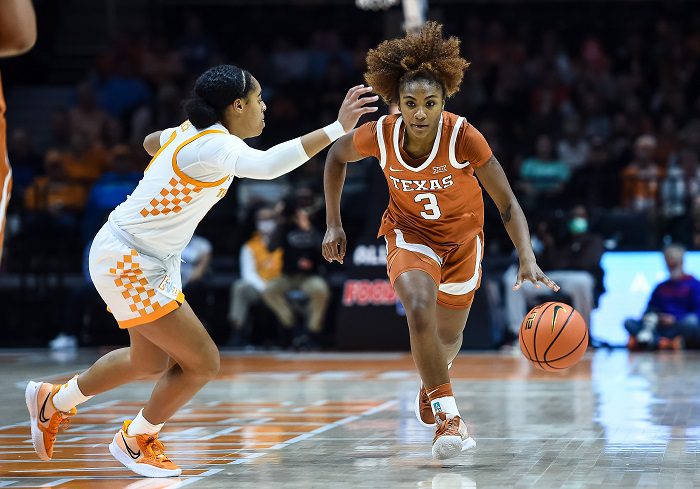 The Big 12 Conference is done with Week 15 of the 2021-22 women's basketball season. So let's dive in and check out our five takeaways for the week.
Rori Harmon Isn't a 'Freshman' Anymore
For the rest of this season, there will be a 'freshman' next to Rori Harmon's name on the Texas roster. But lately she's playing like a sophomore, or beyond.
The Texas guard had two of her best games of the season last week. Against Iowa State she had 20 points, six rebounds and nine assists in the win over Iowa State. Then, on Sunday against West Virginia, Harmon had 19 points, eight rebounds and seven assists. I should also note that Harmon had nine combined assists in those two games.
Now, it's not like her progress was unexpected. She was a McDonald's All-American and the Texas High School Player of the Year last spring. But, the continued rise in the quality of her play is perfectly timed with the tweaks head coach Vic Schaefer has made to his lineup.
Two weeks ago Schaefer rewarded sophomore Shay Holle for her continued good play off the bench with a starting spot. He also slid forward DeYona Gaston into the starting lineup. That meant guards Audrey Warren and Aliyah Matharu had to move into consistent bench roles.
Schaefer pulled this string right after the back-to-back losses to Baylor, and it has led to four straight wins. It's not just Harmon. Holle gives the Longhorns the kind of energy Warren gives them. But, Warren's scoring and fearlessness works better off the bench, and the move has agreed with her. Gaston has played with consistency. Matharu has been slower to warm to the move, but she had eight points against West Virginia and she's relying less on her 3-point shot right now. Plus, she's avoiding the foul trouble that's been an issue for her at times.
Texas won't win the Big 12 regular-season title, but that's not really the point now. The Longhorns want to be peaking in March, and that appears to be where they're pointed. Schaefer's adjustments have been prescient.
But Harmon's play has been prominent.
Jeff Mittie's Wife Has Cancer
Kansas State coach Jeff Mittie revealed last week that his wife, Shanna, is fighting breast cancer. Mittie revealed the news on Twitter.
Mittie has the Wildcats pointed toward the NCAA Tournament for the first time since the 2018-19 season, and his center, Ayoka Lee, could end up as an All-American.
Our best to Jeff and Shanna and our sincerest hopes that she beats this soon.
Kansas is Dancing, People
The Kansas Jayhawks are riding a seven-game winning streak, and even before their win over Texas Tech on Saturday, the Jayhawks had already done something they hadn't done in a while.
Kansas hasn't reached the NCAA Tournament since 2013. Brandon Schneider was hired away from Stephen F. Austin to change that. It's taken a while — this is Schneider's seventh season — but the Jayhawks are starting at their first 20-win season (they have 19 right now) under Schneider and their first finish above ninth place in league play during his tenure.
This is a big week for Kansas. The Jayhawks face both Iowa State and Baylor. Maybe Kansas can steal one. But even if they don't, there's enough real estate for the Jayhawks to reach 20 wins and finalize their credentials for March Madness.
The Big 12's WNBA Draft Prospects
Last week ESPN published a new WNBA mock draft with two Baylor players in the Top 10 — forward NaLyssa Smith as the No. 1 overall pick and center Queen Egbo as the No. 10 overall pick. But, could there be three Big 12 players in the first round?
Obviously, WNBA teams are scouting Iowa State's Ashley Joens, too. Earlier this year, I saw Joens in a WNBA mock draft with Smith, but not Egbo. The thing about Egbo is her size and rebounding ability inside make her an intriguing prospect. Smith and Joens are somewhat similar players — both can play inside and outside. Joens' differentiator, at least for now, is that she's a better 3-point shooter. But because Smith's game is emerging as more WNBA ready — thanks in part to Baylor coach Nicki Collen's WNBA experience — Smith has the chance to be the No. 1 overall pick.
But I still think Joens should slide into the first round. Her skill set is undeniable and her 3-point shooting ability, combined with her size and rebounding, will make her a player that gets a lot of attention leading up to the draft.
If you look at other mocks, you'll find Joens in the first round. Lines.com has her going No. 4 overall to Dallas (which wouldn't hurt my feeling because that's where I live). Wbasketballblog.com has her going No. 3 to Atlanta.
The point is the Big 12 could have three players in the first round of the WNBA Draft, and that says a lot about the talent in this league.
Three Games I'm Intrigued by This Week
Iowa State at Kansas, Wednesday: The Jayhawks are streaking toward the NCAA Tournament. Can the Cyclones slow them down?
Texas Tech at Iowa State, Saturday: Texas Tech is making life difficult for the league's ranked teams.
Kansas State at Oklahoma, Saturday: The last time these two teams played, well, you know what happened the last time these two teams played, right?
You can find Matthew Postins on Twitter @PostinsPostcard.