featured
Different Opinions, Lack of Leadership Kill Hope of Playoff Expansion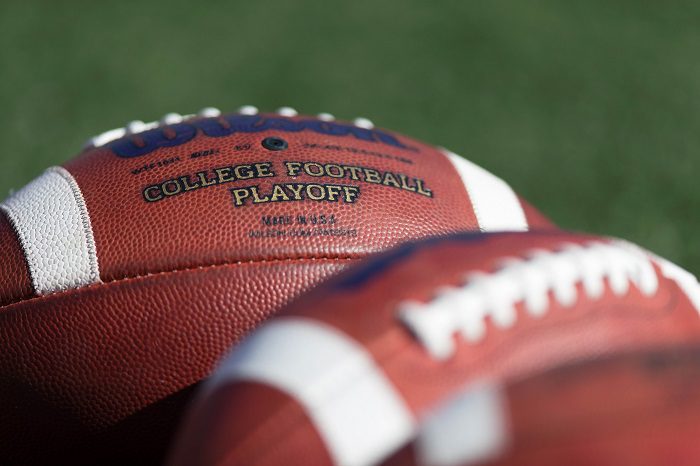 Last Friday the College Football Playoff announced that the current four-team format will continue to be the process by which a national champion will be crowned in America's most popular sport until after the 2025 season.
It was heavily speculated that a new 12-team format would be approved prior to the current 12-year contract ending, but that is no longer an option because an agreement couldn't be reached by the 11 parties involved.
Multiple sources confirmed that the vote was split 8-3, with the Big Ten, ACC, and Pac-12 voting against expansion.
"The Board of Managers has accepted a recommendation from the Management Committee to continue the current four-team playoff for the next four years, as called for in the CFP's original 12-year plan," said Bill Hancock, Executive Director of the College Football Playoff. "At the same time, the Board expects the Management Committee to continue its discussions of a new format that would go into effect for the 2026-27 season."
Just months ago the public was under the impression that a 12-team playoff was coming soon and it was an exciting time for programs, coaches, players, and fans all across the country. Teams that aren't Alabama, Georgia, Ohio State, Clemson, or Oklahoma would finally get a fair shake and an opportunity to make the playoff field. Now, it's four more years of the same old song and dance, and it pisses off everyone who covers the sport, including yours truly. So, what the hell happened?
Why Couldn't They Agree?
There are several factors for why it happened, but nothing that 11 "responsible adults" can't work through given the numerous meetings they had.
Oklahoma and Texas to the SEC Creates Inbalance
First off, when the 12-team format was developed in June, it was before the SEC announced that it was adding Oklahoma and Texas; a massive move that will surely change the entire landscape of college football. That move will now give the SEC seven of the nation's 10 most valuable football programs, further explaining why the other conferences are nervous about changing anything with the amount of uncertainly that creates. Money doesn't necessarily correlate to success, but if you look at the list of top teams, there certainly seems to be some congruence. Nearly every team that has made the College Football Playoff field at least once since its inception is on this list.
The only team to make the Playoff not listed above was 2021 Cincinnati, the first "Group of Five" team to ever make the field. The SEC has undoubtedly ruled college football, taking home five of the nine CFP trophies so far and the addition of Oklahoma and Texas will only further the financial gap between it and the other conferences. One conference having 12 of the 25 most valuable programs in the country is an imbalance of financial power, and I believe that played a factor in the downvote.
Player Health and Welfare
This issue is something that I can't quite get on board with, but I will get to that in a second. Some of the conferences, namely the ACC, were against the expansion of the playoff for concerns of their players having to play 17 games in a season. Well, I'm no genius, but only two teams will make it to that seventeenth game and only six teams in the entire country will be playing extra games if the 12-team format is used. Think about it. Four teams will lose in the first round, and their seasons will be over. That's the same amount of games they would play if they were to just go to a bowl game like years prior. The top four teams get a first-round bye and would only have to play two games to get to the national title game, meaning that only four teams would even make it to 17 games. That argument is preposterous and just doesn't hold any weight in my opinion.
Conferences Couldn't Agree on Automatic Bids
The debate for automatic bids for conference champions was one of the major issues that reportedly divided the room. The Big Ten was adamant that the "Power Five" conference champions should each get an automatic bid to the Playoff in a 12-team format. The highest-ranked "Group of Five" champion would receive the sixth bid, with the final six bids going to the highest-ranked at-large teams left. The other side of the room wanted the six highest-ranked conference champions to receive an auto-bid, regardless of their conference, with six at-large bids to finish out the field.
They couldn't come to an agreement on the bidding process, as minor as the differences are, and that was one of the major reasons why a collective decision couldn't be made. The six highest-ranked conference champions receiving a bid is the best option for everyone involved. "Power Five" champions will almost always be one of the five highest-ranked conference champs so I don't understand what the hold-up was for the Big Ten and Pac-12.
Revenue Distribution and Bowl Game Issues
First off, revenue must not be the driving factor for the talking heads that are responsible for this decision because if it was we would have expansion. It is estimated that a 12-team playoff would produce an extra $450 million in revenue each year, but now that expansion if off the table until 2026, conferences won't see a dime of that. No, instead the conferences will keep the same format, with one of them missing out on the playoff money each year because they couldn't put their differences aside.
Now that I'm off of that soapbox, revenue distribution from television contracts was one of the issues discussed among "The Eleven." Most conferences are currently entering, renegotiating, or near the end of their current media rights deals (except for the ACC, which is locked in until 2036). That coupled with the idea that bowl games, mainly the Rose Bowl, must remain unscathed, expansion be damned.
The Pac-12 and Big Ten send their best respective teams to Pasadena for the Rose Bowl every year, and they don't want the new playoff format to mess with their "Granddaddy of Them All." According to ESPN's Heather Dinich, the Pac-12 feels strongly about this too.
"The Pac-12 and the Rose Bowl don't want to have a semifinal competing against the bowl game in the same traditional New Year's Day three-hour TV window," Dinich writes. "The request would also be a protection for the other bowls that have contracts with Power 5 conferences, the Sugar and Orange Bowls."
What we're asking for for the Rose Bowl is a tiny little ask," Pac-12 Commissioner George Kliavkoff told Paul Finebaum. "We've asked for three hours every three years to be protected against having to compete against a CFP quarterfinal. … Not a big ask. It's difficult to expand the College Football Playoff and also hold onto the great traditions we have in the bowl games. We're trying to do that. It's a difficult balance."
Now What?
Now that playoff expansion is off the table for four more years, what can we expect to happen next? It feels like we are owed some sort of apology, as fans and followers of the sport we were all but promised something that won't happen for half a decade, if ever.
The Same Four Teams, in Some Form or Fashion
In 2021, we saw Michigan and Cincinnati break through to the playoff field for the first time. What happened next? They were both bounced, in dominant fashion, by the elite teams of the SEC: Alabama and Georgia. Well, it may not be what you want to hear, but expect more of the same for the next four years. With 12 teams in the field, you would at least get to see different teams get their shot at the best every year, instead of Alabama, Ohio State, Georgia, Clemson, or Oklahoma year in and year out. Sure, those teams will still be in it, but we would get a host of different matchups each year.
Both Baylor and Oklahoma State would've had a shot in 2021 with a 12-team field, as would a white-hot Utah team that nobody would've wanted to match up with. Do we get to see that? Nope. Cincinnati wouldn't be the lone "Group of Five" team in the field. Hell, just two seasons ago Coastal Carolina would've gotten a chance. Just imagine how much fun it would be to see a team like CCU in the playoff field. Would they get bounced in the first round? Probably. But at least they get their shot, and you don't end up with a 2017 UCF situation.
Continued, Maybe Even Increased, Player Opt-Outs
This factor single-handedly takes the air out of Bowl Season. Unless your team is one of the four, you can almost bet that your best draft-eligible players won't take the field in their bowl game. If it were a 12-team playoff field, that would give us the best 12 teams, at full strength, fighting for the ultimate prize. Who wouldn't want to watch that?
Christian McCaffery was the first big-name to really make waves by sitting out on his team's final game, but it has now become less of a trend and more of a practice. Nearly every bowl game this season was affected by opt-outs. One matchup in particular sticks out for me: The 2021 Peach Bowl which featured No. 13 Pittsburgh vs No 9. Michigan State.
The game ended in a 31-21 Spartans victory, but the final score was absolutely affected by opt-outs. Michigan State hadn't stopped anyone through the air all season, and if Pitt's star QB Kenny Pickett plays in that game I think the outcome is different. Do you know who else didn't play in that game? Kenneth Walker III. That is two players that finished in the top six of the Heisman race.
Creating a 12-team playoff format would help incentivize the best players to play in the biggest games of the year. It's that simple.
Uncertainty for College Football Playoff's Future
At the end of the day, it's going to be hard for those who make the decisions to turn down $450M a year in revenue, therefore I believe that expansion will happen (eventually). However, I thought that money was the sole driving force of this operation already, and that has been proven not to be the case. The frustrating part of all of this, is that the eleven individuals had several chances to hash out their issues and meet with a common goal. Instead, they proved to be an obstinant, egocentric, and petty group of men that would not come together for a common goal. Remember, there were only three votes against expansion, coming from the Pac-12, ACC, and Big Ten.
SEC Commissioner Greg Sankey expressed his frustrations with not getting the expansion done in an interview with the Associated Press.
"I don't think [developing a new format] becomes any easier," Sankey said. "In fact, I think it becomes more complicated. From our perspective, we're going to have to go and rethink our position based on how others have approached the conversation that, really, they initiated. And I don't expect that to get any easier."
Big 12 Commissioner Bob Bowlsby described the meetings as "Groundhog Day" and expressed his disappointment that an agreement couldn't be reached.
With this level of frustration among the commissioners, do we really think that an agreement will be made in 2026? Getting an 11-0 vote on the 12-team proposal might prove impossible if the same representatives are present during the next go-round.
\However, four years is a long time and could be long enough to work out the kinks that are present today. Hell, by 2026 players might be viewed as employees, so who knows what it will look like.
For now, the unfortunate truth is this: stubborn old men have cost this great sport a chance at rectifying its postseason issues, for at least another four years.