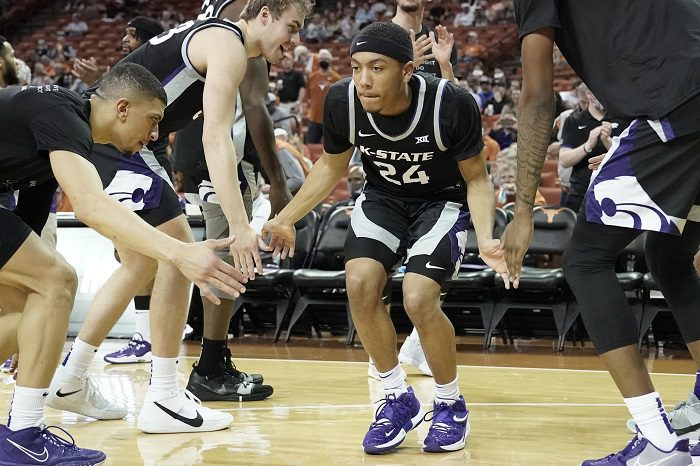 At least that game is over. The Kansas Jayhawks took care of the Kansas State Wildcats, 102-83, in Allen Fieldhouse on Tuesday night in another in a long line of non-competitive games in the Sunflower Showdown.
It was the most points K-State has given up to Kansas since a 103-68 loss on February 27, 2002, the second year of the Jim Wooldridge tenure. It was also the second-most points the Jayhawks have scored against the Wildcats in the history of the series.
Here are five thoughts about the game and K-State basketball moving forward.
Nijel Pack Keeps Shooting
A couple of weeks ago, I wrote about Nijel Pack and his place in the K-State record books. He had three three-pointers against Kansas, scored 15 points, and passed Ski Jones for the most three-pointers by a sophomore in K-State history. Pack has been a bright spot for the Wildcats this season. I sure hope he sticks around two more years. I have no reason to believe that he won't, but with the transfer portal being what it is nowadays, you never know.
Another Blowout
A friend of mine posted on social media last night that before the game his boss asked him how he thought the game would go. He told him KU would win by about 20 points. I found that interesting because I said the same thing to another friend before the game. KU won by 19. I am sure that many K-State fans had a similar bad feeling going into the game.
Bruce Weber's record against Kansas now sits at 3-20. His last victory against the Jayhawks was on February 5th, 2019. He has lost by an average of 14.3 points, and 13 of those 20 losses have been by double digits. Bruce Weber is not getting it done against his number one rival. This brings me to…
It Isn't Fun To Watch Anymore
I love college basketball, and it is still my second favorite sport. Watching this team during the last three years has been excruciatingly painful at times. K-State basketball is bad-to-mediocre, and the program is definitely in a rut. Part of the problem with the program is a bigger-picture issue with college basketball. The one-and-done rule changed the game and took some of my enjoyment away. Instead of following the college career of some great college players for two, three, or four years, the best college players bailed for the NBA after one year. Even though I didn't like it, I got used to it. In the past couple of seasons, I have noticed a deterioration of play while watching teams across the country.
I watch a LOT of college basketball. I take the entire week off of work for the first couple of rounds of the NCAA tournament so that I can watch all of the games. Something is different lately. I have tuned into other games and watched for five minutes or so and thought "wow, these teams are bad." Take Missouri and South Carolina, for example. I watch those teams and think "wow, I'm glad neither of these coaches is coaching at K-State." The funny thing is, one of them used to coach at K-State and was pretty successful! But I digress. It is probably a discussion for another time. The transfer portal and Covid sure have not helped matters.
Watching K-State get blown out by one of the top teams in the country over and over again is just not a lot of fun. I hope K-State athletic director Gene Taylor will do something to help bring the "fun" back to K-State basketball.
NCAA Tournament Chances
K-State's NCAA tournament chances took a pretty big hit with the loss. I think the Wildcats will have to beat Texas Tech on the road and win their last two home games against Iowa State and Oklahoma to get back on the bubble. It's going to be tough for them to beat Texas Tech, but stranger things have happened. I think the Wildcats' chances for making the tournament disappeared with this loss.
Bruce Weber's Future
It may have been Bruce Weber's last game coaching K-State in Allen Fieldhouse. If he wins out to finish with a 9-9 record (they are currently 6-9) in the conference, it still does not guarantee an NCAA tournament berth. Since apathy is setting in with the fan base and attendance is way down, we could be looking at the last few games of Bruce Weber's career at Kansas State. The administration could decide to make a change and let him retire as they did with Bill Snyder. I'm honestly not sure how much more of this the fans can put up with. Bringing Weber back for another year could prove to be disastrous.