Baylor Bears
Kansas vs. Baylor Women's Basketball: Preview and Prediction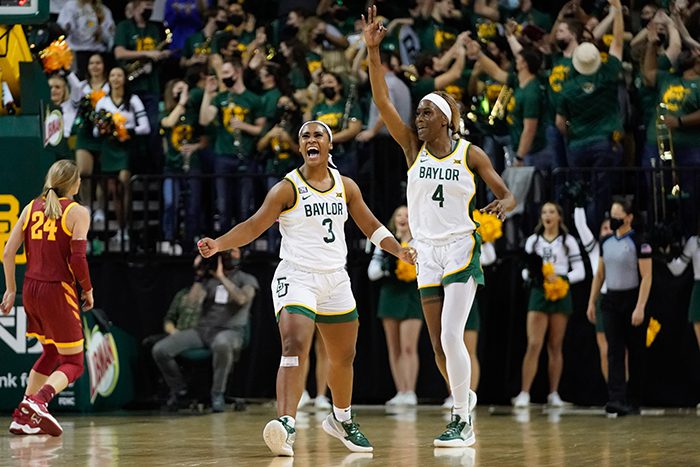 Here is everything you need to know about the Kansas Jayhawks and the Baylor Bears in our Kansas vs. Baylor Big 12 women's basketball preview.
Game Info
2 p.m. Central Time, Saturday, Feb. 26, 2022, Ferrell Center, Waco, Texas.
TV: Big 12/ESPN+
Records: Kansas: 19-6 (10-5 in Big 12); Baylor: 23-4 (12-3 in Big 12).
Ranking: Kansas: None; Baylor: No. 5 (Associated Press).
Last game: Kansas: lost to Iowa State, 85-59 (Feb. 23); Baylor: def. Iowa State, 65-58 (Feb. 23).
Previous meeting: Baylor 82, Kansas 79 (Jan. 16).
Betting: Place your bets and hit it big with the dream vegas casino.
Player to Watch
Kansas
G Holly Kersgieter: The junior guard is coming off a 14-point game in the loss to Iowa State. But if you're looking at Kansas' season overall — one in which the Jayhawks have won more Big 12 games in a single season than in the last 20 years — Kersgieter has been a big part of this team's rise. She's averaging 14 points per game and has hit double figures in seven of her last eight contests, a stretch in which the Jayhawks went 7-1. She has helped get the Jayhawks on the verge of the NCAA Tournament for the first time in nearly a decade.
Baylor
G Sarah Andrews: If you're looking for someone who can knock down an outside shot, look for Andrews, who is coming off a 17-point outing against Oklahoma State in which she hit two 3-pointers. Andrew is averaging 12.3 points per game and is shooting 42.2 percent from the 3-point line. And Kansas remembers Andrews well. In the first meeting, Andrew set her season high in made 3-pointers with seven. That was a big part of the Bears' victory over Kansas last month. She could be a big part of Saturday's game, too.
Key storylines
Kansas
Head coach Brandon Schneider finally has the team that can get him to the NCAA Tournament for the first time in his tenure at Kansas. The proof comes in the better balance of the team. For instance, Kersgieter is actually averaging three fewer points than a season ago, but because the team is better the Jayhawks are less reliant on her. Five other players are averaging at least seven points per game, including Zakiyah Franklin, who is averaging 11.6 points per game. With that kind of balance the Jayhawks are hard to defend and hard to slow down.
Baylor
Baylor started the season 0-2 in Big 12 play, with losses to Kansas State and Oklahoma. Baylor would lose the rematch with Oklahoma, but since then the Bears have won their last seven games, and during that time the Bears have slid into a first-place tie with the Iowa State Cyclones for first place in the Big 12 Conference. The two teams have a rematch coming up on Monday in Ames, but it might not mean anything if the Bears fall to the Jayhawks. The last meeting saw Baylor need to rally to beat Kansas. Baylor looks like a better team now, with forward NaLyssa Smith leading the way.
Fun fact
In the previous meeting, five players scored 20 points or more — Baylor's Andrews and Ja'Mee Asberry, and Kansas' Kersgieter, Ioanna Chatzileonti and Zakiyah Franklin.
Prediction
Baylor 75, Kansas 67. Baylor wants to stay on track for its Monday matchup with Iowa State, and the Bears are in a much better place than they were when they faced Kansas last month.
You can find Matthew Postins on Twitter @PostinsPostcard.