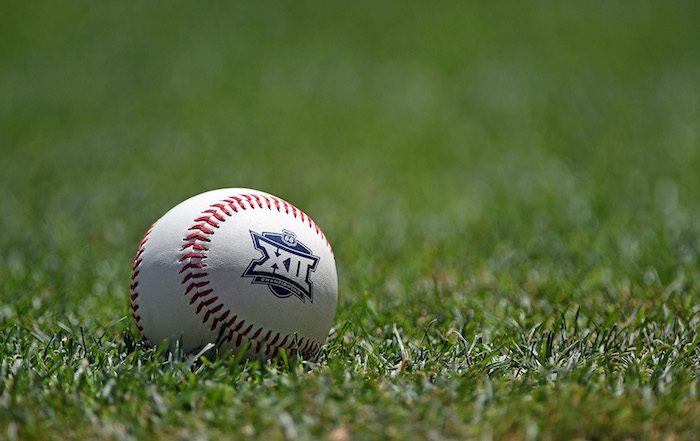 College Baseball is back in full swing as we have just finished with the first full week of action. After a wild opening weekend, we are back again for another jam-packed weekend with plenty on the line. While there may not be any top 25 matchups this upcoming weekend, there still are several important series. Let's take a peek at the Big 12 games this weekend.
Notable Games
West Virginia at Charlotte
It may not sound like a big matchup, but it is a HUGE one for the Mountaineers. After a 3-0 start including two wins over a good Central Michigan squad, West Virginia dropped their first game of the season against Coastal Carolina. Now the Mountaineers have a chance to make another strong statement this weekend against a gritty Charlotte team. The 49ers made the postseason last year and have plenty of weapons back including Conference USA's reigning Player of the Year in Austin Knight. West Virginia has scored at least seven or more runs in their first four games and if Grant Hussey continues to be hot at the plate, watch out.
#23 Duke at Baylor
If there is any Big 12 team that needs a bounce-back weekend it's the Baylor Bears. Baylor got swept by Maryland last weekend and desperately needs to win at least two games against a top 25 Duke team. We know how good Jared McKenzie is for the Bears but who else can step up? As for the Blue Devils coming in, they haven't been as dominant on the mound as I thought but they would, but they have done an excellent job scoring runs so far this season. I know it is early in the year, but this is a must-win series for Baylor if they have postseason hopes.
Nebraska at #17 TCU
TCU will have their hands full this weekend with the Huskers coming to town. Nebraska is the favorite to win the Big Ten this year and they were a postseason team last season. The big question about Nebraska has been their pitching and they have yet to answer it after dropping three out of four games against Sam Houston State last weekend. As for TCU, they have scored a total of 21 runs in their last two games and hopefully they can keep the bats hot in Fort Worth.
Alabama at #1 Texas
The number one team in the country is back at home once again but this time against an SEC opponent. The Crimson Tide have some experience on their roster and are off to a hot 5-0 start to the season. Texas took care of business with ease last weekend against Rice and will need to follow it up with another big series starting Friday. The Longhorns will need to keep those bats hot, and I am excited to see Pete Hanson and Tanner Witt on the mound this weekend.
Kent State at #20 Texas Tech
After dropping two out of their first three games, the Red Raiders need a good weekend against Kent State. The Golden Flashes are a solid MAC team, but Tech should be able to take care of them in Lubbock. The Red Raiders are a team who rely on firepower at the plate and didn't exactly show that all the time in Arlington against some good competition. Everyone knows how good of a player Jace Jung is and he will need some help out there as well. I am still not sure what to make of this team but luckily we will find out a lot more about them this weekend.
Northwestern State at Oklahoma
This series was moved to Arlington due to severe weather and that should be just fine because the Sooners were just there last weekend and did well in the State Farm College Baseball Showdown winning two out of three games. I really like what I am seeing from Peyton Graham and Jimmy Crooks, and I look forward to seeing what these starting pitchers will do against inferior competition.
Other Games
Kansas at New Orleans
Coming into the season, the Jayhawks had some pitching concerns and I thought they did a fantastic job last weekend down in Corpus Christi against Illinois in their first two games. This weekend Kansas will have Cole Larson, Ryan Vanderhei, and Sam Brady on the mound, and they will be tested because New Orleans has plenty of offensive firepower. I know that there are some better matchups out there, but this series will be interesting to watch.
Kansas State at CSU Bakersfield
Much like Baylor, Kansas State needs a bounce-back weekend after going 0-3 in Arlington last weekend. Whether it was pitching or errors, the Wildcats struggled mightily in their first three games. I want to see some clean baseball from this team and see some of these pitchers step their game up.
Wright State at #4 Oklahoma State
There isn't a whole lot to say here because Oklahoma State should handle this series with ease. The Cowboys had a big series win in Nashville last weekend and need to have an even better weekend ahead. Wright State shouldn't be a team that gives the Cowboys any fits and I look forward to seeing Oklahoma State's starters back in action with Justin Campbell, Victor Meredos, and Bryce Osmond on the mound.