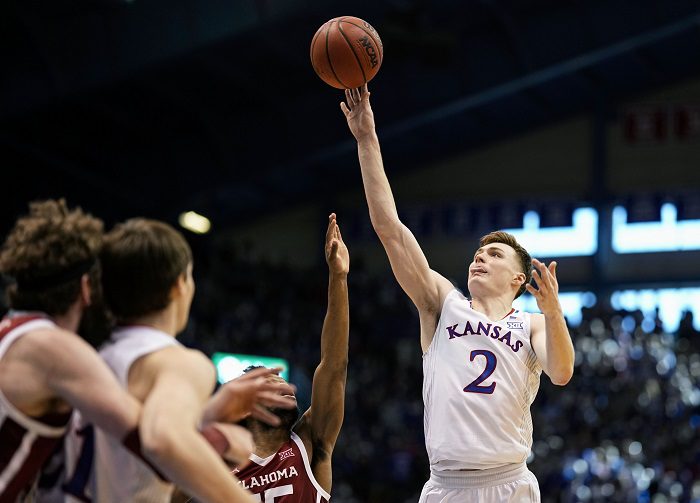 Welcome to the HCS Big 12 basketball mailbag, our eighth of the 2021-22 Big 12 men's and women's basketball season.
This mailbag is for all you basketball junkies out there who root for a Big 12 school that not only have questions about your team but other teams in the conference. So, join me, grab your favorite drink (I'm back to the Tito's and soda in my SFA tumbler), and relax as I answer all your Big 12 questions.
For those interested, I will send out a tweet (@PostinsPostcard) Wednesday night and you'll have until Thursday at 5 PM CT to send in your questions to be answered every Friday right here at Heartland College Sports. And our site owner, Pete Mundo, will solicit questions on our Facebook page.
I want to thank each one of you who submitted a question this week and for those of you that are reading. For future reference, feel free to answer questions about men's and women's basketball, as we've added women's Big 12 coverage to our HCS content this season.
So many great questions and we have time for four.
KBehr68 on Twitter Asks: The way (Texas) Tech is playing, you'd have to think they have a shot at knocking Kansas out in the tourney. Is there anyone else who you see as having a shot in KC?
The news that Kansas may sit forward David McCormack is an intriguing wrinkle, since it sounds like head coach Bill Self is considering just giving McCormack the week off in Kansas City. That would be in an effort to get McCormack as healthy as possible before the NCAA Tournament, when they really need him. In the final analysis, the Jayhawks are no worse than a No. 2 seed in March Madness, whether they win the Big 12 Tournament or not.
Texas Tech is the team I look at as the biggest threat to Kansas winning the Big 12 Tournament, with or without McCormack. The Red Raiders have never won the tournament, and they've reached the final just one time, back in 2005 when they lost to Oklahoma State. Without McCormack, I think that opens the door a crack for Baylor (assuming the Bears are fully healthy) and Texas (assuming the Longhorns are clicking on offense).
But Tech has the best shot. For what it's worth, Kansas hasn't won this tournament since 2018.
And that leads us into our next question.
Bob Guenthner on Facebook asks: How much will (Bill) Self play (David) McCormack in the last few games before the Big 12 Tournament?
That's a MORE interesting question. I figure that McCormack is as available as he can possibly be for Saturday's game with Baylor. The wrinkle here is that the Jayhawks have three games next week, and I doubt Self wants to overuse McCormack. Those last three games are against TCU (twice) and Texas. If Kansas beats Baylor on Saturday, I think Self will work to manage McCormack's minutes next week, and then once the Jayhawks have the No. 1 seed clinched, then McCormack will sit until the NCAA Tournament, if that is indeed the plan.
I've said all season that McCormack is the X-factor for the Jayhawks winning a national title. If Self is talking about managing McCormack's wear and tear, I take that as agreement on his part.
Mark Reams on Facebook asks: Will Bruce Weber retire at the end of the season?
Well, at least this is different. Usually, it's whether he'll get fired.
He only retires if he's done with coaching. And I don't think he's done with coaching. To me, he either keeps his job or gets fired. Managing a 'retirement' to get him out the door doesn't feel like something that will work.
Matt McGarvey on Facebook asks: Any remaining likelihood of getting more than six teams in the NCAA Tournament?
I'm leaning toward no. Kansas State is the best positioned, but I think the Wildcats need to win two of their last three games and at least one in Kansas City to do it. Oklahoma is on the bubble, too, but the Sooners are .500 overall entering this weekend they probably need to win out to get back into the field.
The great thing about this conference is every game matters. The bad thing, as we get to March, is that we finally get some separation in the standings and in the quality of teams. I think the dream of a seven-bid Big 12, at least for this season, is done.
You can find Matthew Postins on Twitter @PostinsPostcard.