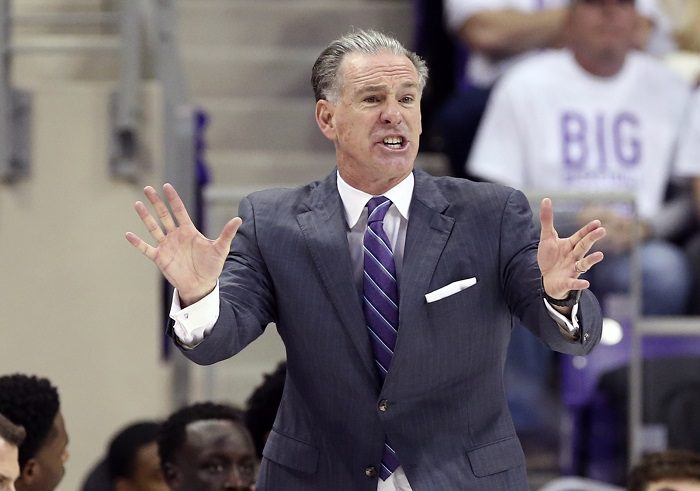 The TCU Horned Frogs moved closer to the bubble in the latest NCAA Bracketology at ESPN, as the Horned Frogs enter a critical stretch for their 'March Madness' hopes.
ESPN's Joe Lunardi has six Big 12 team in the NCAA Tournament as of Friday, with both Kansas State and Oklahoma falling off the bubble. Neither team is listed as one of the 'First Four Out' or 'Next Four Out.'
TCU is in a huge stretch in which it must play Texas Tech on Saturday, and then back-to-back games with Kansas on Tuesday and Thursday. The Horned Frogs lost on Wednesday to Texas, 75-66. The Horned Frogs end the season at West Virginia on March 5.
Now the Horned Frogs are part of the 'Last Four Byes' in Lunardi's field. These are the teams that are able to avoid the 'First Four' games of the tournament. If TCU falls back much further, the Horned Frogs would then be on the bubble. Right now the Horned Frogs are a No. 11 seed.
Selection Sunday is on March 13.
Other takeaways:
Moving up: Iowa State moved up to a No. 7 seed after another victory earlier this week.
Moving down: Texas Tech dropped a seed line to No. 3, despite winning easily over Oklahoma earlier this week.
Holding steady: Kansas remained a No. 1 seed. Baylor remained a No. 2 seed. Texas remained a No. 5 seed.
How the bracket looks for the Big 12 as of Feb. 25:
West Region (San Francisco)
No. 3 Texas Tech vs. No. 14 Texas State
East Region (Philadelphia)
No. 7 Iowa State vs. No. 10 Wake Forest
South Region (San Antonio)
No. 2 Baylor vs. No. 15 Long Beach State
No. 5 Texas vs. No. 12 South Dakota State
Midwest Region (Chicago)
No. 1 Kansas vs. No. 16 Cleveland State
No. 11 TCU vs. No. 6 Arkansas
Future Big 12 members
East Region (Philadelphia)
No. 5 Houston vs. No. 12 San Francisco/Indiana winner
You can find Matthew Postins on Twitter @PostinsPostcard.