Baylor Bears
Big 12 Football Stars for the 2022 Season You Haven't Heard About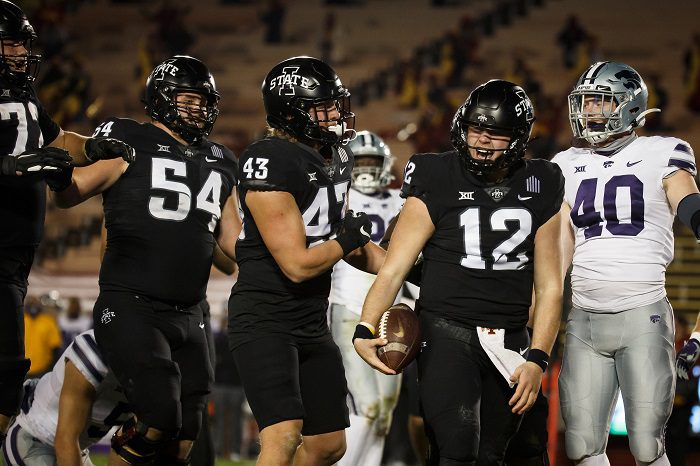 With every football season, a handful of previously unknown players rises to star status. While it's impossible to predict who those players will be, it's certainly possible to make an educated guess.
We all know proven commodities at running back like Bijan Robinson and Deuce Vaughn, and we've all heard about big-time transfers like Quinn Ewers and Dillon Gabriel, but there are players waiting in the wings for their chance to steal the spotlight, and you may not have heard much, if anything, about them. Here's a look at one potential star from each team.
RB TAYE MCWILLIAMS, BAYLOR
McWilliams, a redshirt freshman in 2021, only appeared in three games last season as the Bears relied almost exclusively on Abram Smith, Trestan Ebner, and Gerry Bohanon in the running game. With Smith and Ebner gone, McWilliams may well become a featured back for the Bears next season after averaging 10.6 yards per carry in 2021, including an average of 6.59 yards after contact. He also had at least one carry of 14 yards or more in each of his 2021 appearances.
QB HUNTER DEKKERS, IOWA STATE
ISU fans are familiar with Dekkers, but the average Big 12 fan probably couldn't name him as Brock Purdy's backup. The national pundits are going to be down on ISU this offseason because all they'll see is a gaping hole where Purdy, Breece Hall, and Charlie Kolar used to be, but Dekkers has the potential to have people in Ames asking Brock Who? Dekkers, a redshirt freshman in 2021, played well in relief of a flustered Purdy in last season's loss to Iowa, completing 69% of his passes for 114 yards and a touchdown. He was a four-star recruit out of high school and ranked as the 7th-best dual-threat prospect in the nation by 247Sports.
CB KALON GERVIN, KANSAS
Gervin is a four-star transfer from Michigan State who will immediately upgrade KU's secondary. A redshirt sophomore in 2021, his talents languished on the sidelines for much of his career at Michigan State. He's not going to shut down the league's top receivers, but he's good at making tackles in the open field and is capable of applying pressure on blitz packages.
WR RJ GARCIA II, KANSAS STATE
I'm going out on a limb a bit with this one, as K-State has a lot of receivers who would appear to be ahead of him in the pecking order, but Garcia, a true freshman in 2021, has the potential to enter the 2022 season on the two-deep and the skillset to become a weapon for K-State's new offensive coordinator, Collin Klein. A former basketball star, he profiles much like many of K-State's standout players of the past: he was underrecruited but generated immediate buzz in K-State circles when 2021 Spring ball began.
CB/S TREY MORRISON, OKLAHOMA
Morrison is a super-senior transfer from North Carolina. He's a versatile player who is likely to find a role in Brent Venables' defense as he has a nose for the football in the passing and running games, and he can explode in blitz situations. Oklahoma's defense may produce several new stars in 2022, but with Morrison's experience and versatility, he is likely to be in a position to make big plays all season.
RB OLLIE GORDON or RB CJ BROWN, OKLAHOMA STATE
Dominic Richardson might be the heir apparent to take over for Jalen Warren in Oklahoma State's backfield, but I wouldn't be surprised if one (or both)of these four-star recruits grew into a large role for the Cowboys in 2022. But I'm speculating about four-star true freshmen, I might as well mention WR Taylon Shettron. However, running back is a concern for Oklahoma State (again) heading into this season, and I wouldn't be surprised if a newcomer worked his way into the starting role the way Warren did last season. Gordon has the size to play right away, but it will depend on how quickly he adjusts to the college game.
RB TRELON SMITH, TCU
Smith is a transfer from Arkansas and a redshirt senior. He'll likely split reps with Emani Bailey, a four-star transfer from Louisiana, but I think Smith's experience with the Razorbacks will translate well to Sonny Dykes' offense. Smith rushed for 1,308 yards and 10 TDs over the last two seasons while averaging just over five yards per carry.
WR ISAIAH NEYOR TEXAS
You've heard of Quinn Ewers, the QB transfer from Ohio State, but you may have missed that Texas won another big portal recruiting battle in grabbing Neyor, a phenomenal transfer from Wyoming. With Xavier Worthy giving opposing secondaries plenty to worry about, Neyor should be in for a big season in Austin. Neyor averaged 20 yards per reception last season, his redshirt freshman campaign, on his way to 878 yards and two games with 100+ yards.
WR LOIC FOUONJI, TEXAS TECH
I originally had Joshua Moore penciled in here as a starting WR for Tech, but a reader kindly pointed out that Moore flipped from Tech to SMU. Fouonji was my second choice, and with Moore out of the picture, he's probably in for a big season and a starting role. Fouonji, a redshirt sophomore, was not utilized much during his first two seasons at Tech, but he showed the homerun ability to become a star last season, particularly with a 69-yard touchdown strike against Texas when he put a move on the cornerback and safety that was so good the two defenders missed him altogether and collided.
QB GARRET GREENE, WEST VIRGINIA
WVU hired former Texas Tech QB Graham Harrell to take over as offensive coordinator in January, and that should be great news for whoever wins the starting quarterback job at WVU for 2022. While Greene has some strong competition for the job, I believe he will prevail, and with the ability to run to go along with a cannon for an arm, he could be set to make a name for himself in Morgantown.