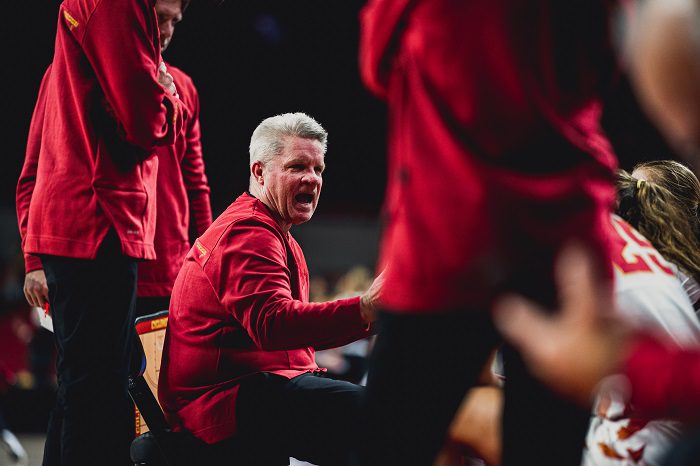 Baylor, Iowa State and Texas are all in the Top 10 of the newest AP Top 25 Women's Basketball Top 25 released on Monday.
Baylor and Iowa State will play each other on Monday night for first place in the Big 12. Oklahoma is the only other Big 12 team in the Top 25.
The ranked Big 12 teams include:
Baylor at No. 5 (the Bears were No. 5 last week).
Iowa State at No. 8 (the Cyclones were No. 9 last week).
Texas at No. 9 (the Longhorns were No. 11 last week).
Oklahoma at No. 19 (the Sooners were No. 20 last week).
Kansas received one vote.
Baylor (23-5, 13-3) won both of its games last week, as the Bears defeated Oklahoma State, 65-58, and Kansas, 85-77. The Bears are riding an eight-game winning streak and will travel to Iowa State on Monday and host Texas Tech on Sunday in the season finale. The Bears' game with Iowa State will give the winner a one-game lead in the Big 12 standings.
Texas (21-6, 11-5) continued its winning ways last week, beating Kansas State, 62-51, followed by a 77-42 win over TCU. The Longhorns wrap up their week with a trip to Kansas on Wednesday and a home finale on Saturday against Oklahoma State.
Iowa State (24-4, 13-3) won both of its games last week, defeating Kansas, 85-59, and then beating Texas Tech, 71-55. The Cyclones host Baylor on Monday in a game that will give the winner the Big 12 lead and then wrap up the season with a trip to West Virginia on Saturday.
Oklahoma (22-6, 11-5) won both of its games last week. The Sooners beat TCU, 92-67, and Kansas State, 72-69. The Sooners wrap up the season with a trip to Oklahoma State on Wednesday and a home finale against Kansas on Saturday.
The entire poll featured No. 1 South Carolina, No. 2 Stanford, No. 3 NC State, No. 4 Louisville, No. 5 Baylor, No. 6 LSU, No. 7 UConn, No. 8 Iowa State, No. 9 Texas, No. 10 Michigan, No. 11 Maryland, No. 12 Iowa, No. 13 Ohio State, No. 14 (tie) Indiana, No. 14 (tie) Arizona, No. 16 North Carolina, No 17 BYU, No. 18 Tennessee, No. 19 Oklahoma, No. 20 Notre Dame, No. 21 Virginia Tech, No. 22 Florida Gulf Coast, No. 23 Florida, No. 24 Georgia and No. 25 Georgia Tech.
You can find Matthew Postins on Twitter @PostinsPostcard.