Baylor Bears
Big 12 Women's Power Rankings: Baylor, Texas Take Top Two Spots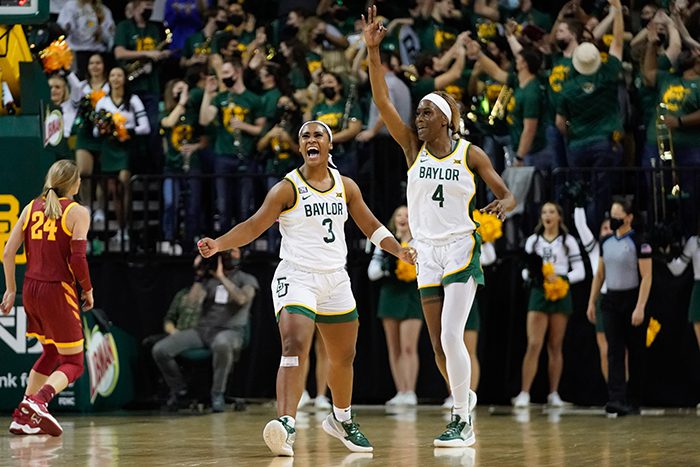 The Baylor Bears remained No. 1 in the Heartland College Sports Big 12 women's basketball power rankings for Feb. 28. Our Power Rankings will appear every week.
1. BAYLOR (24-5, 14-3; Last Week: 1)
The Bears are on a nine-game winning streak after beating Iowa State on Monday and forward NaLyssa Smith is playing like the Big 12 Player of the Year. Baylor isn't deep, but it's finally playing like a team that can make a deep run into the NCAA Tournament.
2. TEXAS (21-6, 11-5 in Big 12; Last Week: 3)
The Longhorns are on a six-game winning streak and, honestly, they're playing their best basketball of the season. The lineup changes head coach Vic Schaefer made three weeks ago has driven more offensive for Texas, to go along with its stingy defense.
3. IOWA STATE (24-5, 13-4; Last Week: 2)
The Cyclones have had four 'prove it' games in Big 12 play — two against Texas and two against Baylor. The Cyclones have lost all four. Still, the Cyclones have the potential to win the Big 12 Tournament title next week in Kansas City. And ISU has beaten everyone below it in these power rankings.
4. OKLAHOMA (22-6, 11-5) (Last Week: 5)
The Sooners have righted the ship this week, as they won both games last week. OU would love nothing more than to win its final two games and remain in the third-place tie it currently enjoys with Texas.
5. KANSAS (19-7, 10-6; Last Week: 4)
The Jayhawks lost both games last week, falling to Texas and Baylor. No shame there, considering where those two teams are at the moment. The Jayhawks have still done things that a team in Lawrence hasn't done in 20 years and they're a lock for the NCAA Tournament. A 20-win season is still quite possible.
6. KANSAS STATE (18-10, 8-6; Last Week: 6)
The Wildcats lost both games last week. Still, K-State is headed to the NCAA Tournament. But, there's a momentum problem with this team at the moment. Kansas State has lost four of its last five games, but with games against West Virginia and TCU this week, the Wildcats still have a shot at 20 wins before the Big 12 Tournament.
7. WEST VIRGINIA (13-13, 6-10; Last Week: 9)
The Mountaineers have won two straight and the possibility exists that they could secure a berth in the WNIT. But, to do it the Mountaineers likely need to win at least one game this week to be .500 going into the Big 12 Tournament, and then win a game on the tournament's first day. Could a 15-15 Mountaineers team, or better, make it? I'd be interested to see.
8. OKLAHOMA STATE (8-17, 3-13; Last Week: 8)
The Cowboys lost both games last week and are on a three-game losing streak. So why is OSU ahead of Texas Tech? The Cowboys swept the Lady Raiders this season.
9. TEXAS TECH (10-17, 3-13; Last Week: 7)
The Lady Raiders are on a three-game losing streak, but they keep scoring points on opponents and pushing them to the limit. Tech could get out of the first day of the Big 12 Tournament and give a higher seed a lot of trouble.
10. TCU (6-19, 2-14; Last Week: 10)
The Horned Frogs are on an 11-game losing streak. It could be 13 heading into the Big 12 Tournament next week.
You can find Matthew Postins on Twitter @PostinsPostcard.