Baylor Bears
Five Biggest Takeaways from Week 16 of the Big 12 Women's Basketball Season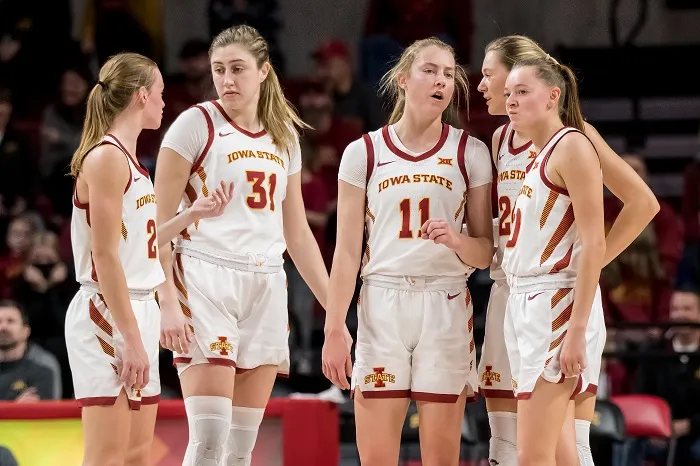 The Big 12 Conference is done with Week 16 of the 2021-22 women's basketball season. So let's dive in and check out our five takeaways for the week.
What's Left to Decide?
Well, after Baylor's 87-62 win over Iowa State on Monday, there are still some things to decide.
Assuming Baylor wins its game on Sunday against Texas Tech, the Bears will be the Big 12 regular-season champions for the 12th straight year.
Assuming Iowa State wins its finale on Saturday against West Virginia, the Cyclones will be the No. 2 seed.
If Oklahoma and Texas win out, they'll tie for third place and they will have split their head-to-head matchup. In that case, it sounds like the team with the best record against the highest-placed team in the league would win the tiebreaker. That would be Oklahoma, which swept Baylor.
Kansas is the No. 5 seed but has a rough week ahead with games against Texas and Oklahoma. The Jayhawks could lose both and end up in a tie with Kansas State for fifth place, assuming Kansas State wins out. Kansas State is two games ahead of West Virginia, and one shouldn't rule out the Wildcats losing two straight and the Mountaineers winning two straight, which would lead to those two teams finishing in a tie.
About the only thing that's totally clear is that Texas, Oklahoma State and TCU will be playing on the tournament's first day. But we still have some things to settle by Sunday.
How Kansas Did It
The Kansas Jayhawks may have lost both games last week, but the Jayhawks are poised to make the NCAA Tournament for the first time since 2013 and for the first time under head coach Brandon Schneider. So, how did he do it?
Well, this great piece from the Kansas City Star's Jesse Newell gives you a tick-tock of the season and how Kansas is poised for a little history.
It was start with a little fire. No, literally. Fire.
Give it a read below.
A Texas Milestone
Earlier this season Texas guard Audrey Warren nearly did what DeYona Gaston did on Saturday against TCU. Gaston was perfect from the field. The Austin American-Statesman's Danny Davis has the info and the screen shot.
Gaston has played well all season, but her play has ratcheted up just a bit since she returned to the starting lineup full time a few weeks ago. If Texas gets deep into the NCAA Tournament, Gaston will be a big reason why.
Saturday's Checklist
Baylor forward NaLyssa Smith put in a lot of work for the Bears on Saturday against Kansas.
Smith is on the short list for Big 12 Player of the Year and National Player of the Year, awards she claimed last season. In fact, she may have cemented that on Monday night.
Three Games I'm Intrigued by This Week
Texas at Kansas, Wednesday: Could the Jayhawks make it a clean sweep of the Longhorns this season?
Kansas at Oklahoma, Saturday: The Sooners will be out to solidify themselves as a Top 4 seed team in the NCAA Tournament
Texas Tech at Baylor, Sunday: Texas Tech gives ranked teams trouble. It's Vivian Gray's last regular-season game for Tech. Expect lots of points.
You can find Matthew Postins on Twitter @PostinsPostcard.