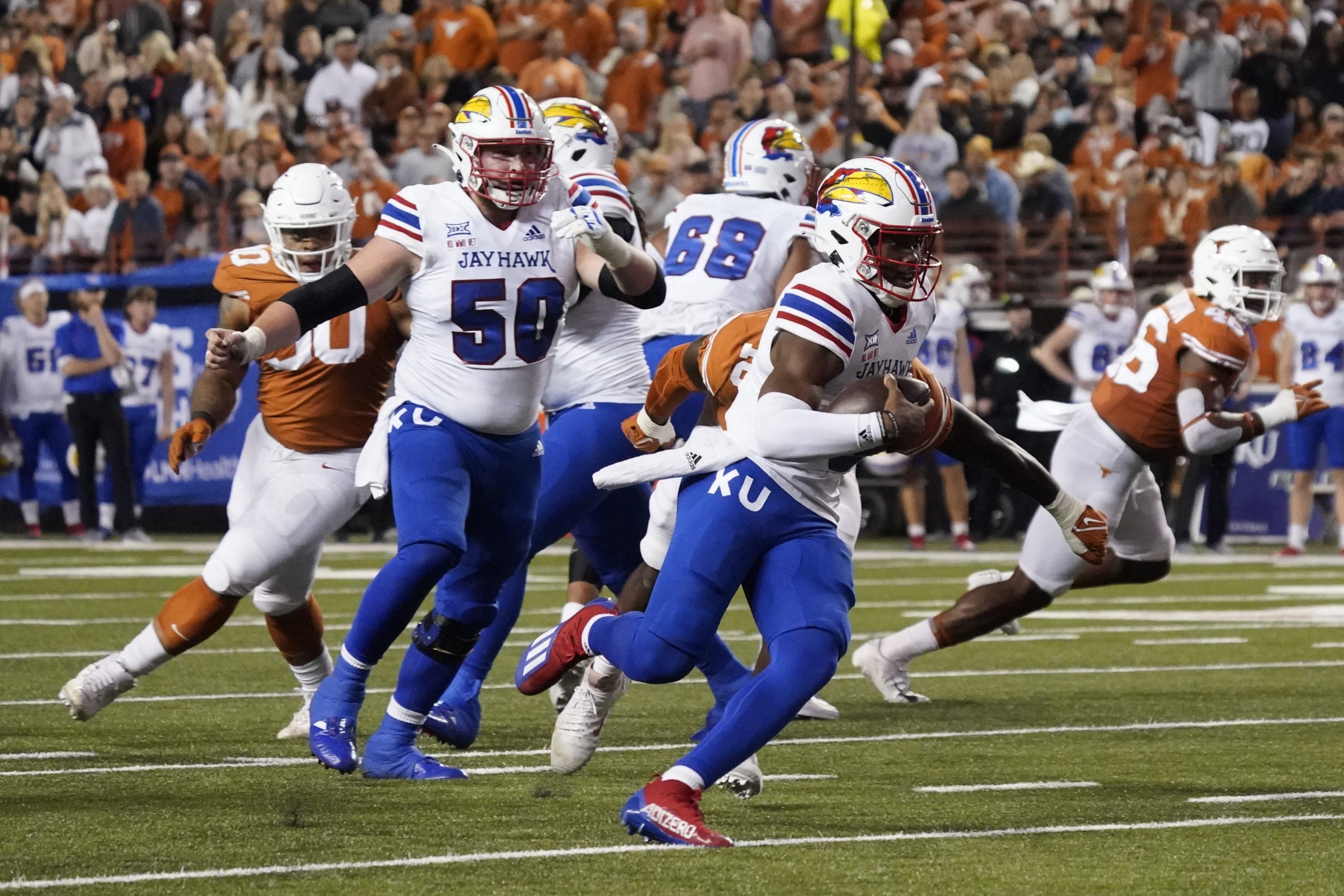 Kansas is coming off a 2-10 season where they were able to beat South Dakota in the home opener and Texas in Week 10. The victory over the Longhorns in Austin was obviously the highlight of the year for the Jayhawks, but what can they do to build on it?
KU went 2-2 in one-score games, and three of those games were the final contests of the year. Although they weren't able to beat TCU or West Virginia, Kansas was in both games until the end. That was something that hadn't happened much during the season, but after they beat Texas, KU started to believe again. Now, they have something to build on going into spring.
There are a few things to keep an eye on in Lawrence this spring, and since the Jayhawks will play their spring game tomorrow, let's hop right into it.
Which Transfers Will Make an Immediate Impact?
Kansas picked up seven transfers this offseason, including four from Big Ten schools, and all of them have the opportunity to make an immediate impact. On the offensive side of the ball, OT Nolan Gorczyca transfers in from Buffalo, and at 6-6, 275-pounds, the freshman has the size needed to be a solid tackle in the Big 12. RB's Ky Thomas (Minnesota) and Sevion Morrison (Nebraska) come in and automatically makes the KU backfield better, adding depth to a position that is already talented with Devin Neal at the helm. Their addition should help form an upper-tier backfield in the Big 12 next fall. Defensively, the Jayhawks add four pieces in areas of need: Senior CB Kalon Gervin (Mich St.), junior LB Eriq Gilyard (UCF), Sophomore Edge Lonnie Phelps (Miami, OH), and junior S Craig Young (Ohio St.). All four should push for immediate playing time in Lawrence and could be starters come the beginning of the 2022 season.
Does Jalon Daniels Take the Next Step and Solidify Himself as the Starter?
When Jalon Daniels made his first start last season against Texas, he was mostly an unknown commodity around Lawrence, but now he is the favorite to land the starting quarterback gig in 2022. Daniels completed nearly 70% of his passes and was responsible for 10 touchdowns in a limited season. Now, with that under his belt, will he take the next step and become the bonafide starter for KU? Daniels showed an ability to extend plays with his legs and exhibited good decision-making for the most part in 2021, but he will need to develop to be successful in 2022. There is film on Daniels now, and opposing defensive coordinators will be studying to see what flusters the sophomore signal-caller. If he can build on a promising finish to last season, Daniels could be a dangerous piece for the Jayhawk offense.
Can Kansas Improve in the Trenches?
Development along the offensive and defensive lines will be paramount for KU heading into 2022, as that is typically where games are won and lost. Kansas was actually pretty good at protecting the quarterback in 2021, ranking 17th in sacks allowed. However, they were below average running the football, ranking 88th with 139.3 ypg. The defensive line for Kansas was just plain bad in 2021, ranking 129 out of 130 FBS teams with 249.9 rushing yards allowed per game. They also tied for 118th in team sacks, with 1.33 per game. The Jayhawks' inability to get to the passer was detrimental all season long and must be a point of emphasis in spring football. As stated above, KU did add some pieces along the O-Line and D-Line, but will it be enough to turn things around? Only time will tell.