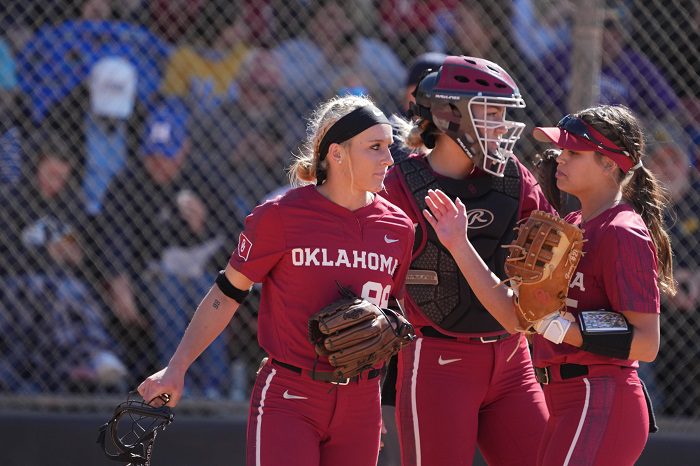 Jocelyn Alo, Oklahoma softball's designated hitter, has received much attention as she has hit an NCAA record 95 home runs in her career. She is tied with former Sooner softballer Lauren Chamberlain and just needs one more homer to be the all-time leader.
All of the Sooner softball girls are awesome in their own right—eight of them starters who played crucial roles on last year's national championship team.
One player who is beginning to make Sooner fans sit up and take notice is Jordyn Bahl, a freshman pitcher from Papillion, Nebraska.
A Promising Start at the Collegiate Level
In nine appearances on the mound, she has a record of 6-0 and an ERA of 0.96. Jordy, to those who know her well, has faced 123 batters in 37-2/3 innings and has struck out 65.
Bahl is so good, she started the first game of 2022. She earned her second start three games later and led the top-ranked Sooners to a 4-1 win over No. 3 UCLA, a traditional softball powerhouse. The right-hander pitched a complete game of seven innings, allowed four hits, one run, and struck out 14 Bruins.
Last Friday, Bahl pitched a perfect game in the Sooners' 10-0 victory over Cal State Fullerton. She pitched only six innings because Oklahoma dominated the game in run-rule fashion. She struck out 11 batters and allowed no hits or walks. It was the first perfect game by a Sooner pitcher since Giselle Juarez did it in 2019. It also marked the first perfect game by an OU freshman since Paige Parker in 2015. Last year, Juarez was named the Most Outstanding Player, leading Oklahoma to a fifth national championship. Parker was the MOP in the 2018 College World Series, guiding OU to a national title. She also was named first-team All-American in her sophomore and senior seasons. The other two years, she was a second-team All-American.
First Career "Save" Against No. 17 Tennessee
Jordy Bahl is in good company, and she's just beginning. Last Saturday, against No. 17 Tennessee, Bahl struck out 16 batters, the most by a Sooner pitcher since Juarez did it three years ago. Bahl had given up four earned runs in five innings against the Volunteers, so Coach Patty Gasso replaced her with Nicole May in an attempt to hold onto a 5-4 lead. May allowed two runs in her 1-2/3 innings on the mound. The Vols had taken a 6-5 lead in the top of the seventh inning, the first time OU had trailed all season.
Gasso sent Bahl back to the mound with two outs in the seventh, and the Sooners escaped the inning when the next Tennessee batter popped up to shortstop.
A pop fly by Taylon Snow in the bottom of the seventh allowed teammate Hannah Coor to score from third base for a 7-7 tie. With Snow on second base, Oklahoma won with Jayden Coleman's walk-off homer in the 10th inning. Bahl had given up two runs in the extra frames, but she struck out six Vols.
On Monday, Bahl and Alo were named Softball America's No. 1 pitcher and position player for February. The Big 12 Conference honored Bahl as its Pitcher of the Week for the second time.
Top High School Player in 2021
Accolades are nothing new for Bahl. She earned the 2020-21 Gatorade National Softball Player of the Year honor and top player in the state of Nebraska for two years at Papillon-LaVista High School. She led the Monarchs to three straight Class A state titles and collected All-State honors all four years. Her senior year, Bahl logged a 27-0 record with a 0.10 ERA, surrendering just 27 hits and 15 walks in 137 innings pitched while striking out 316 batters in 2021. She batted .510 with 20 home runs and 55 RBI. She posted 27 wins, a 0.15 ERA, and 316 strikeouts as a junior. She also hit 20 home runs and batted in 55 runs for a .510 batting average in 2020.
Bahl drew interest from numerous colleges, but when it came down to making her decision in 2020 (her junior year), she wanted to play for a team with championship pedigree, and Oklahoma fit the bill with five national championships; four in the last nine years.
"I want to be at a place where there's a culture, and you're more than just a softball player," Bahl told Softball America in August 2020. "When I went on my visit, they checked all those boxes. Obviously, they're a successful program, but they're also outstanding off the field as individuals building a culture and you as a person. That was a really important thing to me."
Patty Gasso Thrilled With Jordy's Transition into College
Gasso was the fortunate coach to pen Bahl to a scholarship.
"I think the nation will really get to know Jordy Bahl," Gasso said during a preseason press conference. "That name will be a name that they're familiar with. And you'll really enjoy her style. She's very competitive, and it's really very engaging. It's like you can get lost in watching her pitch at times.
"She has a style about her that instantly a female would say, oh gosh, she's got a cocky—look how cocky she is. You have to get used to what she's doing because you don't understand—she kind of walks. It's almost like a lion walking around the circle. And she kind of takes her time; she dangles her arm. It's very habit-forming by her. Then when I see it in person, I get it. I know what she's doing. It's very focused."
Alo also heaped praise on her freshman teammate in the preseason press conference.
"Jordy Bahl, you guys, United States of America, get ready 'cause she is legit," Alo said. "She's one of the best pitchers I've ever seen. I would say, and I've seen quite a few pitchers in my day, and even on the Olympic level, too."
"She is very strong," Gasso added. "I've not had a freshman come in so strong and fit as Jordy.
"Quite an incredible athlete."