Big 12 News
Oklahoma, Texas Unlikely to Leave the Big 12 Before 2024: Report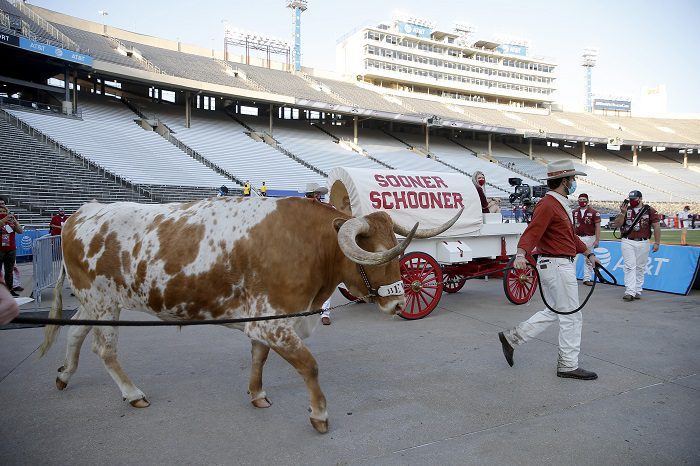 The issue of "when" Oklahoma and Texas leave the Big 12 Conference has been the biggest question surrounding the league since the bombshell came down last summer.
We may have some insight into what the plans of Oklahoma and Texas might be courtesy of a recent report from Chip Brown of Horns247.
As of now, both schools have said publicly they plan to join the SEC when the Big 12's current television rights agreement expires in July 2025. However, as Brown rightly notes, the teams will have to pay the roughly $80 million in exit fees regardless of if they leave in 2023 or 2025, as the members of the league agreed to a "99-year" grant of media rights in 2012.
According to Brown, "Multiple sources told Horns247 this week, as of right now, Oklahoma isn't as financially flexible as Texas is when it comes to having to pay the roughly $80 million in exit fees.
"Money won't have any influence on when Texas would decide to leave for the SEC," one high-ranking UT source said. "But Texas and Oklahoma are going to make that move together, so it probably won't happen before 2024."
The implication was that Oklahoma is going to need until 2024 to figure out the financing of its exit from the Big 12."
This is interesting as we know at least the BYU Cougars are joining the Big 12 in 2023, and it's possible that Houston, UCF and Cincinnati will also follow to join for the 2023 football season. If that does happen, then the Big 12 Conference will, at least for one season, have 14 teams in the league, until Oklahoma and Texas depart for the SEC.
Another note in the report is that there are still plenty of details to work out between ABC/ESPN and Texas over the remaining few years of the Longhorn Network, which technically runs through 2031.
Texas has been paid $115.5 million from the agreement thus far.