Big 12 News
Proposed Rule Changes in College Football will Lead to Less 'Exposure' for Athletes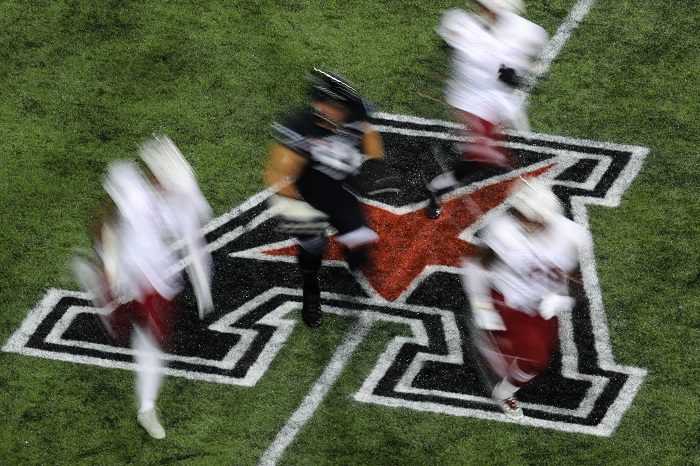 In 2021, the average time of a Big Ten football game was 3:27:28, and the average amount of plays in a college football game was 168.
While the length of a game is technically 60 minutes with four 15 minute quarters, they usually go well past three hours, touching four hours when pass happy offenses meet up. That amount of time/plays leads to a high level of "exposure" for athletes playing the game, which has led to some important proposed rule changes.
"I think that's one of the things we will look at, the number of exposures, the number of plays in a game," Big 12 commissioner Bob Bowlsby said. "What we do during preseason camp, what we do in practice, what we do in offseason conditioning. See if there are ways we can reduce wear and tear, ways we can reduce live contact."
Limiting exposure means playing less football, but in regards to the health of athletes that's not a bad thing. Everytime the ball is snapped, 22 players are at risk for injury. The less times that happens, the better the odds are of everyone moving on to next week healthy.
With that in mind, there are two main aspects of the game that could see rule changes, leading to less plays per game. According to a report from CBS Sports' Dennis Dodd, these are the two changes that are being considered.
"Treating incomplete passes the same as runs out of bounds. Beginning in 2008, the clock started after runs and fumbles out of bounds when the referee signaled "ready for play". Previously, the clock started on the snap after such plays. The committee is considering treating incomplete passes the same way. The rule would be in effect until late in the half or game, perhaps the last 2-5 minutes, according to Shaw.
"No longer stopping the clock after first downs. This is a foundational piece of college football that differentiates it from the NFL. This change has long been considered, but the game's overseers have been hesitant, in part, because it would make the college game more like the NFL."
These rule changes could improve the overall risk of injury to the sport's players, or it could throw the balance of a game completely out of whack. Of course, there will be no way of knowing how it will affect the game until it is put into practice. Will these new rules be accepted and used in 2022? We should know more as the decision-makers are meeting this week to discuss the proposals. There will likely be some changes made, as it has become clear that player safety has become a top priority in college football, as it should be.