Oklahoma Sooners
SEC Commissioner on Oklahoma-Texas Move: 'I Didn't Communicate Effectively'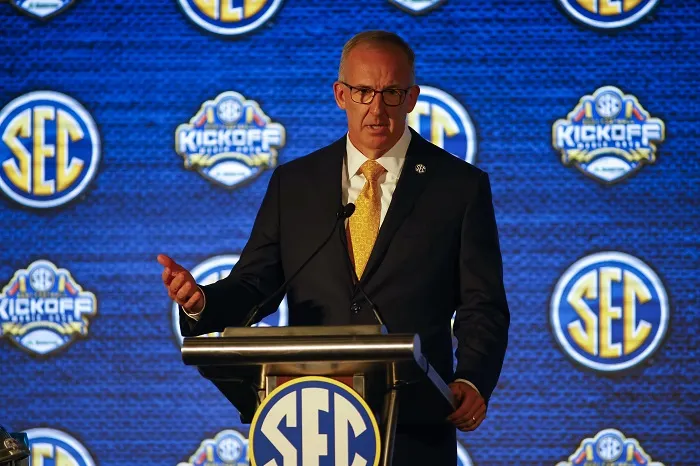 When Oklahoma and Texas decided to leave the Big 12 for a giant cash pool in the Southeastern Conference, it stepped on a lot of toes. Understandably, the Big 12 conference as a whole, teams, administrators, and even Bob Bowlsby himself expressed their distaste for the move.
Another school that didn't appreciate the addition of OU and UT was Texas A&M and you can't really blame them given their history against the Big 12's cash cows.
Texas holds a 76-37-5 record against the Aggies, while Oklahoma holds a 19-12 advantage. Although A&M did get the better of Oklahoma in the 2013 Cotton Bowl, 11 of the previous 13 meetings went the way of the Sooners.
Also, Texas A&M's claim to fame in the SEC was being the gateway into Texas' fertile recruiting grounds. Their recent recruiting success is a perfect example of what being the only SEC in the Lone Star State is a huge benefit for the Aggies. Now, they will have to share their state with the Longhorns and with Oklahoma, whose roster is primarily made of Texas athletes.
The move, of course, upset Texas A&M and it didn't help that they calimed to be all but left in the dark until it was time to vote. This claim was confirmed by SEC commissioner Greg Sankey last week.
Now, A&M's "Big Brother" is going to share a conference with them, yet again. While it may not be what they wanted, I have a feeling that they wont mind the revenue that the Longhorns and Sooners bring with them.