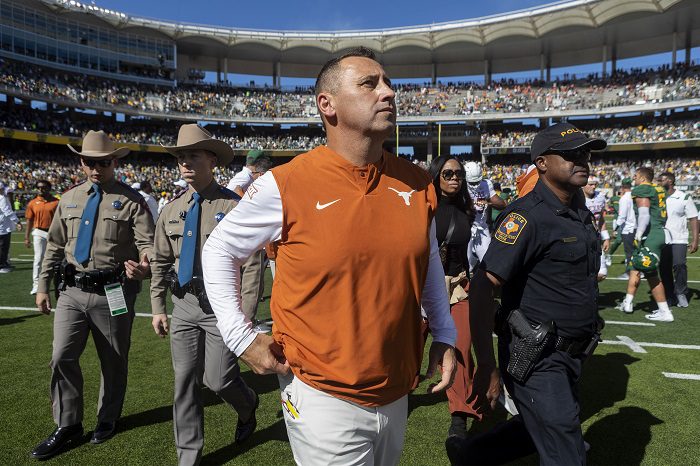 Former UT quarterback Colt McCoy was the last Longhorns quarterback to lead Texas to 10 or more wins in the regular season, which was 2009. Texas has been a rollercoaster since then, making it to a bowl game in 8 of 12 seasons but only eclipsing 10 wins once (2018 Sugar Bowl Champions).
In Steve Sarkisian's first season the Longhorns underwhelmed, going 5-7 and finishing seventh in the conference. In year two, Sark hopes to find a defense to match his offensive prowess, an issue that Texas faced for the entirety of the 2021 season.
Everyone has their opinions on how Sark's second year will go, and there is reason to believe that things will get better. Quinn Ewers looks like a generational talent at quarterback, and if he can find a way to live up to the hype, that will take Texas a long way. The last generational Texas quarterback, Colt McCoy, told Inside Texas' Bobby Burton how he feels about year two under Sarkisian.
"He's doing great," McCoy said. "I've talked to (Sarkisian) many times. You talked about the penultimate years of Vince (Young) being there, all the way through 2009 — we won lots of games and I think, now, being removed from that as a fan it's like, 'what's missing? What's going on?' Even for me, I get that way. When I left, it was like 'we should win 10 or 12 games every year. I don't understand.' I think you go through coaching changes, different recruiting cycles and it takes time. I think for us, as fans, we're a little spoiled.
"Not over the last 10 years but the life of being a Longhorns fan. The expectations are high and they should be. I think coach Sark definitely knows that. A little bit of grace for inheriting his football team and now going into the second year, I expect there to be a big jump and improvement. I think everybody does but it does take time to build a team exactly how you want it and get the players that you want and everybody buying into the system and the scheme of what they're trying to do on both sides of the ball. I think you're going to see a good jump."