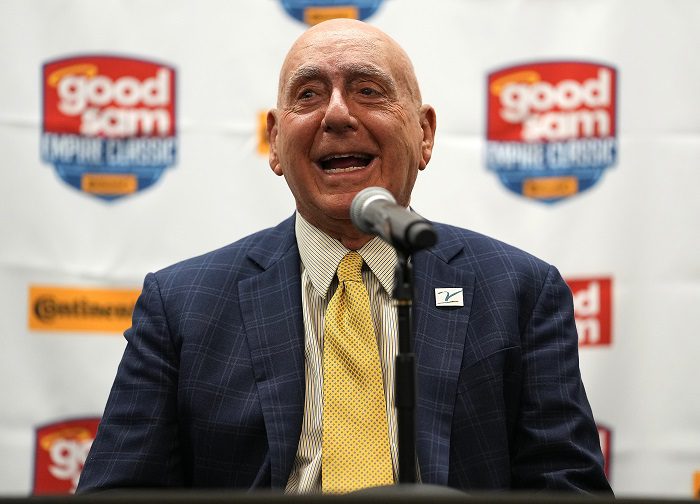 Beloved ESPN College Basketball Analyst Dick Vitale is resting his vocal cords due to pre-cancerous Dysplasia that his doctor discovered in December. This is not related to his battle with lymphoma but it has required Vitale to step away from the mic for a while.
However, just because he's not calling games this season doesn't mean that he's not analyzing. No, in fact it probably means that he can watch the games even more efficiently from the comfort of his own home.
With that in mind, Vitale has been releasing his VBDI (Vitale Bald Dome Index) Conference Honors and Awards on Twitter this week and today he released the Big 12 edition.
Vitale named Texas Tech's Mark Adams as the Big 12 Coach of the Year after leading the Red Raiders to a 23-7 (12-5) record and, in all likelihood, a three-seed in the NCAA tournament. Adams' team was able to sweep the third-ranked Baylor Bears in conference play this season, something that nobody in the conference can claim.
Vitale's Player of the Year is none other than Kansas guard Ochai Agbaji. The senior guard leads the Big 12 in scoring with 20.1 points per game and is shooting 49% from the field. His 37 point performance in an OT win against Texas Tech back in January was one of the best performances of the season thus far.
Finally, Dick Vitale's "Diaper Dandy" is Iowa State's Tyrese Hunter. Being a "diaper dandy" means being a freshman who steps in and instantly becomes a star in college basketball. Hunter certainly fits that mold, giving the Cyclones 11.1 points per game and nearly averages five assists a game. His 13 point, 10 assist, and 7 rebound performance in a win over Kansas State last weekend was pivotal in placing the Cyclones squarely on the NCAA tournament bubble.