Oklahoma Sooners
Phil Steele Lists Oklahoma at No. 9 in 2022 Way-Too-Early Top 10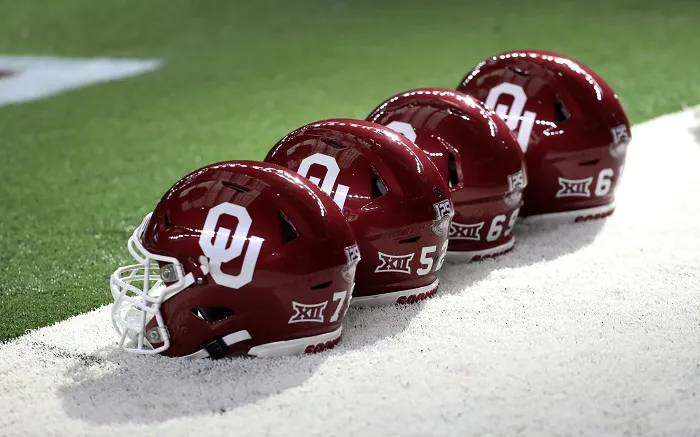 Phil Steele has become something of an offseason guru when it comes to making selections that will reflect the AP Poll when it is released in August. In fact, Steele is eerily accurate when projecting the top 10, picking the correct order of teams 96.2% of the time over the last 13 seasons.
Alabama and Georgia, the two teams that faced off in the CFP Championship Game in January, are first and second as expected. While it has become something of an annoyance for college football fans it's hard to argue with either of those teams being near the top.
Then, of course, Ohio State and Clemson are right behind them at three and four. That's not much of a surprise either. Both teams were down last year but still managed to win double-digit games. Then, the Texas A&M Aggies are at five, which baffles me every year. A&M has lost at least four games in four of the last five seasons, yet they still end up preseason top 10.
As you work your way down the list, Notre Dame is at six, Michigan is seventh, and Utah is at eighth (I think the Utes will be great in 2022), but the "surprise" is Phil Steele's ninth-ranked team: The Oklahoma Sooners.
Here is the full list, courtesy of PhilSteele.com.
1. Alabama
2. Georgia
3. Ohio State
4. Clemson
5. Texas A&M
6. Notre Dame
7. Michigan
8. Utah
9. Oklahoma
10. Oregon
Now, the national media just can't come to grips that Oklahoma fans feel better about their current situation than they did in November. It's just unimaginable that anyone other than Lincoln Riley could have success with one of the most talented rosters in the FBS. However, Phil seems to get it.
It would take a fall-off of epic proportions for Oklahoma to become what some (*coughs* Stewart Mandel) have predicted they will be in 2022, but I think there is a big difference between Steele's and Mandel's predictions. Steele has reason to be accurate: it's his MO. There is a reason that Phil Steele's magazine flies off the shelves in the summer: he's proven to be accurate. Now, that's not to say that Mandel can't be right; he certainly could be. I'm not questioning his intelligence, I'm simply saying the motive is different. Mandel left Oklahoma out of his Top 25 because he knew it would get clicks. He knew Oklahoma fans would grab their torches and pitchforks and jump into his comments. It's a brilliant strategy to hit interaction goals, but it won't help your reputation as a college football analyst (unless Steele is just dead wrong about OU).
As On3's Barkley Truax points out, ESPN and Phil Steele's projections are very similar, with 7/10 being the same teams. ESPN left out Clemson, Oklahoma, and Oregon and instead had NC State (8), Oklahoma State (9), and Michigan State (10).