featured
Iowa State Spring Football 2022: Three Things to Watch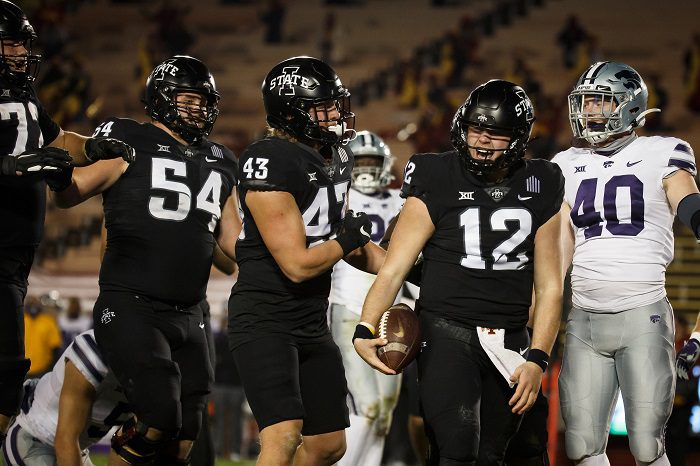 At this time last season, there was a lot to like about Iowa State football. They were fresh off an appearance in the Big 12 title game and were Fiesta Bowl champions.
Going into the 2021 season, the Cyclones had a lot of hype and everyone including myself was penciling them in for a spot to play for another Big 12 championship. However, things didn't go as planned as they ended up with a 7-5 regular season record. Instead of a trip to another NY6 Bowl, they ended up in the Cheez-It Bowl.
With so many players departing from last year's team, there will be plenty of fresh faces to try and fill in those key spots. The question is who are some of these guys stepping into new roles and how will they look? Well, we will start getting our answers soon enough as Iowa State starts up spring practice on Friday, and here and my three questions going in.
Can Hunter Dekkers be the guy at quarterback?
No matter who was going to play quarterback in 2022, they were going to have some big shoes to fill. Brock Purdy holds 32 school records and was arguably the best quarterback in Iowa State history. While Cyclone fans may know Dekkers well other Big 12 fans may not know who he is. Hunter was a four-star quarterback in the 2020 class and has played in seven games over the last two years. He brings an interesting skill set to the table as he is a dual-threat quarterback and has a strong arm. There is plenty to like about Hunter Dekkers but until we see him as the starter, you never know what can happen. Also, keep an eye on true freshman Rocco Becht and redshirt sophomore Aidan Bouman.
Who Will Replace Breece Hall and Charlie Kolar?
Just like with the quarterback position, the running back and tight ends groups will have to take it up another notch since Breece Hall, Charlie Kolar, and Chase Allen are off to the NFL. One could argue that Iowa State not only had the best running back and tight combo in the Big 12 but in the entire country.
Breece Hall was a superstar running back over the last two seasons for the Cyclones. Hall finished his career at Iowa State with nearly 4,000 rushing yards and 56 touchdowns in just three seasons. Over the last two years, Breece was the best running back in the conference and was possibly the best back in all of college football.
There appear to be three guys who will be looking to step up this season between Jirehl Brock, Deon Silas, and Eli Sanders. Brock is the most experienced guy as he has the most carries and believe it or not, he was a higher-ranked prospect than Breece Hall was coming out of that 2019 class. Whether it is a group effort or one guy leading the way, this is a group to watch during spring ball.
The same goes for the tight end room. All-American Charlie Kolar is gone after being the go-to man for the last few years along with Chase Allen. Iowa State loves being in those two tight-end sets and since both guys from last year, they will need several players making that next jump up. The names to follow here will be Jared Rus, Tyler Moore, DeShawn Hanika, and Easton Dean.
What will the defense look like?
On the defensive side of the football losing linebacker, Mike Rose and several others in the secondary are some big hits. Rose was an All-American linebacker and 2020 Big 12 Defensive Player of the Year. However, the good news is that Iowa State added a transfer from Delaware by the name of Colby Reeder. He should be the frontrunner to take that SAM linebacker job.
While the linebacker spot is a concern, I have more questions about the secondary who lost all-conference safety Greg Eisworth along with a few others. Eisworth is going pro but Iowa State lost Isheem Young and Kym-Mani King to the transfer portal. Beau Freyler appears to take Isheem Young's spot and he impressed me with his performance in the Cheez-It Bowl. Also, Craig McDonald could replace Eisworth, but the other spot should be wide open. Obviously, a lot can shakeup in the secondary with guys moving around as they will look to get the best players on the field.