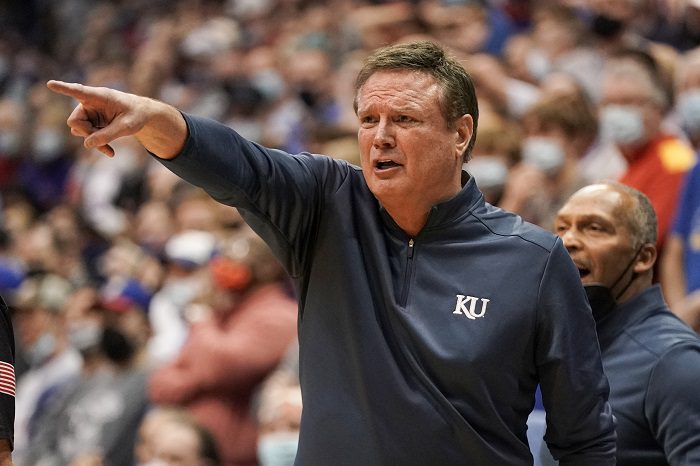 Here is everything you need to know about the Texas Longhorns and the Kanas Jayhawks in our Texas vs. Kansas Big 12 men's basketball preview.
3 p.m. Central Time, Saturday, March 5, 2022, Allen Fieldhouse, Lawrence, Kansas.
TV: ESPN
Records: Texas: 21-9 (12-7 in Big 12); Kansas: 24-6 (13-4 in Big 12).
Ranking: Texas: No. 21 (Associated Press); Kansas: No. 6 (Associated Press).
Last game: Texas: lost to Baylor, 68-61 (Feb. 28); Kansas: def. TCU, 72-68 (March 3).
Previous meeting: Texas 79, Kansas 76 (Feb. 7).
Player to Watch
Texas
G Courtney Ramey: He's averaging just nine points per game this season, along with 3.2 rebounds. But Ramey's importance for Texas is on the defensive end. He's emerged as the team's best one-on-one defender, and in the Longhorns' first meeting with Kansas, he drew the unenviable task of guarding Jayhawks guard Ochai Agbaji. He had just 11 points and on the key possession late in the game, where Kansas sought to get Agbaji the ball for a basket, Ramey cut him off completely and it turned into a turnover.
Kansas
F Jalen Wilson: He started the season suspended due to a DUI. They he started slowly on the floor, lost in a rotation that included transfer guard Remy Martin. But, since Big 12 play began, Wilson has become a bigger and bigger part of the game plan, to the point where he's averaging 10.7 points and seven rebounds. All things considered, he may be Kansas' best rebounder, as he can attack the glass from anywhere on the floor. He scored 18 points in the loss to Texas, and he's hit double figures in all but one game since February.
Key storylines
Texas
The Longhorns look locked in as the No. 4 seed, now that TCU lost to Kansas on Thursday night. The Longhorns have a two-game cushion on the Horned Frogs with one game to play. Additionally, Texas doesn't have the momentum to move up, as it is two games behind Texas Tech for third place in the Big 12. So the Longhorns have avoided a first-round game, but their opponent is still unclear. It could be TCU or Iowa State, depending on Saturday's results.
Kansas
Kansas is tied for the lead in the Big 12 after its surprising loss to TCU on Tuesday night. The Jayhawks returned the favor on Thursday, but with one game remaining the Jayhawks don't want to surrender that No. 1 seed. So, how will be the Big 12 break this tie between Kansas and Baylor, assuming both win on Saturday? Well, head-to-head is the first option. But, they split their two games. What's next? The Big 12 says it's "Each team's record versus the team occupying the highest position in the final regular season standings, and then continuing down through the standings until one team gains an advantage." In this case, one has to assume that would be Texas Tech. Well, Kansas split with Texas Tech and Baylor was swept by Texas Tech. Using that logic, a Kansas win on Saturday means the Jayhawks are the No. 1 seed in Kansas City.
Fun fact
Kansas hasn't been the No. 1 seed at a fully-contested Big 12 Tournament since 2018. In 2019, it was Kansas State. In 2020, the Jayhawks were the No. 1 seed but never played due to COVID-19. In 2021, Baylor was the No. 1 seed.
Prediction
Kansas 79, Texas 73. It isn't going to happen twice this season.
You can find Matthew Postins on Twitter @PostinsPostcard.