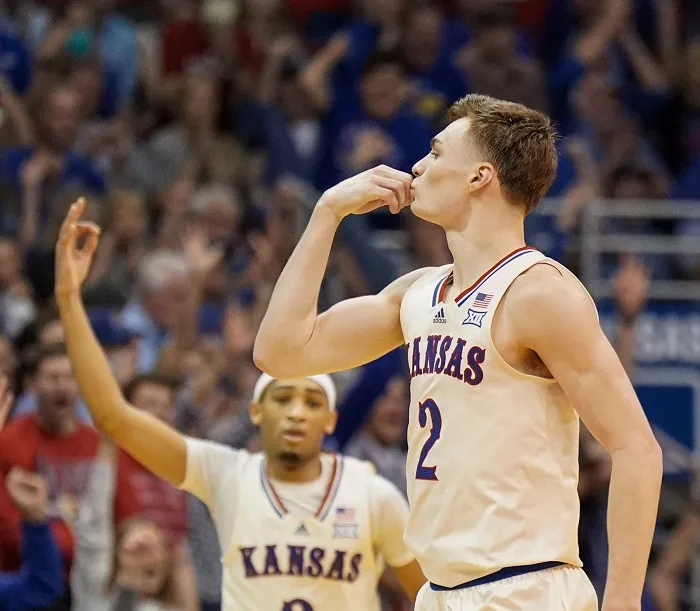 The Texas Longhorns and Kansas Jayhawks met in Lawrence for their final game of the regular season. Both teams were trying to end on a high note and were also playing for seeding in the Big 12 Tournament, and possibly the NCAA Tournament. While Kansas was trying to lock down a regular season Big 12 Championship.
For Kansas, it was also Senior Day and their fourth game in eight days after having back-to-back games against TCU this week, following the need for a game to be re-scheduled from earlier in the season.
And for the last game of the season in Allen Fieldhouse, it sure did live up to the hype, as Kansas won the game in overtime 70-63 over Texas. David McCormack (22 points, 10 rebounds) and Jalen Wilson (17 points, 13 rebounds) led the way with double-doubles for the Jayhawks, while Texas got 18 points from Courtney Ramey and 12 points from Andrew Jones.
'We Played Terrible'… But Won
At the halfway mark of the second half, Bill Self reportedly said in a huddle, per ESPN, "We're playing terrible, but we're up by one". Well, KU would go on to win the game, and while playing in their fourth game in eight days.
And you know what, it's hard to argue with Self's assessment. Kansas shot 31% from the field (18-58) and 35% from three-point range (6-17). But Kansas' defense held Texas to similar numbers, while winning the rebounding and turnover battle, which proved to be the difference maker in this game.
Big 12 Tournament Implications
For Texas, the game was more about NCAA Tournament seeding than it was about Big 12 Tournament seeding as the Longhorns were locked into the No. 4 seed no matter the outcome of this game.
But for Kansas, a win puts the pressure on Baylor, who has to beat Iowa State tonight to share the Big 12 regular season title. Combine this win, with a strong showing in the Big 12 Tournament next week, and Kansas may be able to get itself back into a No. 1 seed in the Big Dance, after the latest Bracketology had them falling to a No. 2 seed.
Unreliable Remy
The Remy Martin experiment has not worked at Kansas. And there's no way Bill Self can rely on him in the Big 12 Tournament or NCAA Tournament. At this point, it's a fool's errand. Martin did get the start on Senior Day, and scored the first bucket of the day, and he also had an assist to David McCormack, which was beautiful and the first one like that we've seen in months. It was in many ways a glimpse into what could have been for Martin, who came to Kansas as one of the most-coveted recruits in America after starring at Arizona State and subsequently removing his name from the NBA Draft. However, Martin ended the regular season averaging less than eight points and three assists per game, which is not close to what the expectations were prior to the season.