Big 12 News
Kansas Guard Ochai Agbaji Named Big 12 Men's Basketball Player of the Year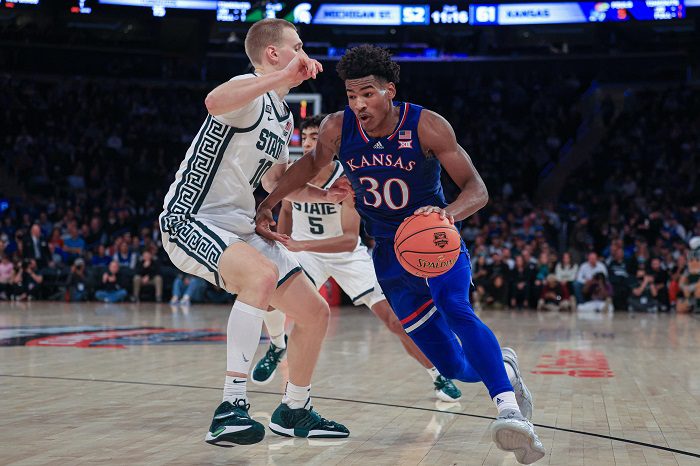 Kansas guard Ochai Agbaji is the Heartland College Sports Big 12 men's basketball player of the year for the 2021-22 season.
Agbaji made a statement from the beginning of the season, when the Jayhawks faced Michigan State in the Champions Classic in Chicago. Agbaji scored 29 points in the 87-74 win over the Spartans. It set the tone for the Jayhawks, but it also set the tone for Agbaji's season.
Agbaji played in every game and never dipped into single digits in scoring. While the game against Michigan State was impressive, his best performance of the season came against Texas Tech on Jan. 24.
The Jayhawks' 94-91 double-overtime victory may have been the Big 12's best overall game. While Texas Tech's Bryson Williams scored 33 points, Agbaji managed to outdo him, scoring 37 points.
He came up clutch several times, including in the first Sunflower Showdown game with Kansas State on Jan. 22 in Manhattan. Agbaji scored 29 points, in a game where K-State guard Nijel Pack was admittedly the star (he had 35 points and eight 3-pointers). But, in the end, it was Agbaji who hit the big shots down the stretch to clinch the victory. He scored six points in Kansas' 9-0 run to end the game, including the go-ahead layup.
Last summer, he put his name in for the NBA Draft, but retained his eligibility, signaling that Agbaji was more interested in getting his 'report card' than actually going to the league. Reportedly, NBA scouts wanted Agbaji, among other things, to be more assertive on offense. That's something the Jayhawks have been asking him to do for a while, but only this season has he firmly taken control of the team, much like Devonte Graham did a few years ago in his senior year.
In Graham's senior year, the Jayhawks went to the Final Four and Graham eventually became a second-round NBA pick.
Agbaji has never called his shot more than he has this season, and the Jayhawks have benefitted with their first regular-season title since 2020.
By the end of the regular season, Agbaji averaged 20.2 points, 5.2 rebounds, 1.7 assists and nearly one steal per game. He shot 48.7 percent from the field and 42.2 percent from the 3-point line. He had also passed several players on the all-time scoring list at KU, including Wilt Chamberlain.
There were a few other players considered for this award. Williams emerged as Texas Tech's best offensive player in Big 12 play. Pack merited consideration after he bettered his scoring average in Big 12 play over his season average.
But Agbaji's blend of athleticism, assertiveness and value to his team makes him the league's top player for this season.
You can find Matthew Postins on Twitter @PostinsPostcard.