Big 12 News
Mark Adams Named Big 12 Men's Basketball Coach of the Year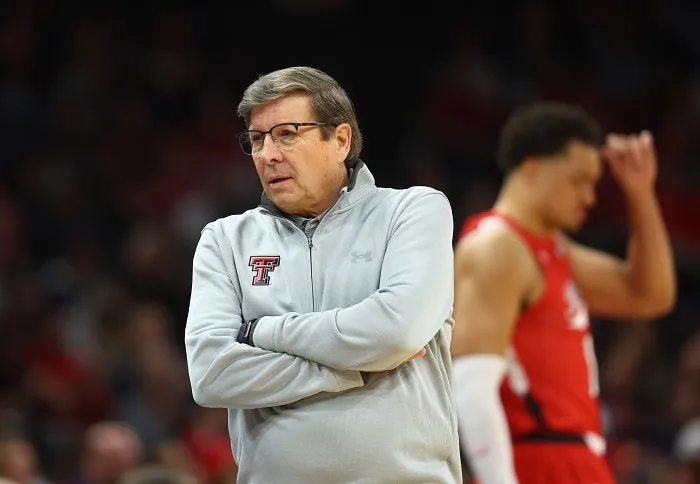 Texas Tech head coach Mark Adams is the Heartland College Sports Big 12 men's basketball coach of the year for the 2021-22 season.
As the story goes, Chris Beard left Texas Tech for Texas in April and Red Raiders athletic director Kirby Hocutt asked Adams if he wanted to interview for the job. Adams' reply was, "I've been interviewing for the job for the past five years."
Adams served as an assistant on Beard's staff as the team's defensive coordinator. Beard and Adams first met when Adams was the head coach at Howard College, where he led that school to a national junior college championship. Adams could have left with Beard for Texas, as Beard took his dream job.
Only thing is, Texas Tech was Adams' dream job. He got his degree at Texas Tech and waited more than 40 years — and 544 head-coaching wins from Clarendon College to now-defunct UT-Pan American — for the chance to lead the program he grew up watching as a child in Brownfield, Texas.
Adams inherited a lot of work. In his own words, he had to re-recruit his current players, and managed to keep Terrence Shannon Jr., Kevin McCullar, Marcus Santos-Silva and Clarence Nadolny.
He ended up with nine new players, and his junior college experience came in handy in building a chemistry and was practically second-to-none in the conference. He crafted a team that played his brand of defense and eventually emerged as an offensive team so balanced they were difficult to defend.
It all came to a head in Big 12 play. The Red Raiders (23-8) started the season unranked, but near the end of the regular season the Red Raiders were a Top 10 team with a 5-1 record against the conference's other Top 4 teams — Kansas, Baylor and Texas.
Texas Tech was a double-overtime loss to Kansas away from a clean sweep and, perhaps, a Big 12 crown.
Adams handled it all with a humbleness that made his success all the more admirable. His first chance at a Division I job at UT-Pan American (now UT-Rio Grande Valley) led to 44 wins in five seasons. After he and UTPA parted ways, Adams actually acquired a hockey team before getting back into coaching at Howard College.
This season, the Red Raiders won a bit more than 50 percent percent of Adams' tally at UTPA. He's learned a lot in between those jobs.
Other contenders
There were other coaches worthy of consideration. Iowa State's T.J. Otzelberger turned the Cyclones into a 20-game winner after a season in which they won just two games, and his program's late surge made it a tougher decision. But, ultimately, the Cyclones did not come close to challenging for the league crown.
Like Adams and Otzelberger, TCU's Jamie Dixon dealt with insane turnover to turn his Horned Frogs into a likely NCAA Tournament team. Even Kansas State's Bruce Weber appeared on the radar briefly until the Wildcats' late downturn.
But, after watching Adams take his dream and turn it into an incredible reality, he was the top choice for the award.
You can find Matthew Postins on Twitter @PostinsPostcard.