Baylor Bears
All-Big 12 Women's Basketball Team Announced for 2021-22 Season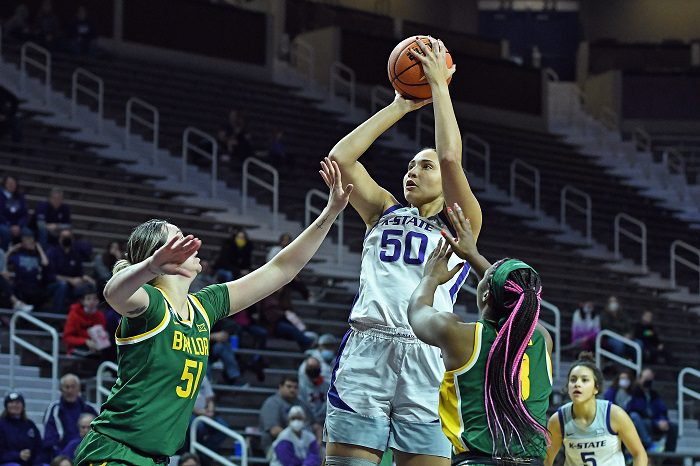 Heartland College Sports announces its Big 12 women's basketball team for the 2021-22 season.
The team was selected by the staff of the site and features a first team and a second team. Baylor forward NaLyssa Smith is on the team, as he is the Big 12 Player of the Year. Baylor head coach Nicki Collen was selected as the Big 12 Coach of the Year.
The teams are below.
First Team
G Vivian Gray, Texas Tech
G Ashley Joens, Iowa State
C Ayoka Lee, Kansas State
F NaLyssa Smith, Baylor
G/F Madi Williams, Oklahoma
About the team: Smith (22.3 points, 11.7 rebounds per game) was the Player of the Year and one of two players in the Big 12 to average a double-double all season. Smith's game, overall, got better under head coach Nicki Collen. The other player who averaged a double-double was Lee (22.6 points, 10.3 rebounds per game). She also led the Wildcats in steals and blocked shots, and the 6-foot-6 center set an NCAA record with 61 points in a game. Joens nearly averaged a double-double (20 points, 9.2 rebounds per game) and fueled Iowa State's run at the top of the Big 12 for nearly the entire season. Williams (17.7 points, 7.7 rebounds per game) led the Sooners in scoring and rebounding, while averaging more than two assists and one steal per game. Gray only played 20 games this season, but 17 in Big 12 play. She was one of three players to average more than 20 points in league play (21.4 points). The others were Lee and Smith. Gray also averaged 5.5 rebounds and more than two assists and two steals per game.
Second Team
G Holly Kersgieter, Kansas
G Jordan Lewis, Baylor
G Emily Ryan, Iowa State
G Taylor Robertson, Oklahoma
C Queen Egbo, Baylor
About the team: Lewis and Ryan are two of the best point guards in the country. Lewis (11.8 points, 3.4 rebounds, 5.3 assists, 1.0 steals per game) became just the third Bear in program history to record a triple-double. Ryan (12.6 points, 3.9 rebounds, 7.1 assists, 1.7 steals per game) became more of a scorer as the season went on. She set school records for assists and steals in a game on separate occasions. Kersgieter (13.6 points, 4.6 rebounds, 2.0 steals per game) helped Kansas defy expectations to finish in the Top 5 of the conference standings. Robertson (16.9 points, 4.6 rebounds, 3.2 assists per game) became the Big 12's top 3-point shooter of all time, male or female. Egbo (11.0 points, 8.5 rebounds per game) anchored the Bears in the paint.
You can find Matthew Postins on Twitter @PostinsPostcard.