Baylor Bears
Baylor Tops Final Big 12 Women's Basketball Power Rankings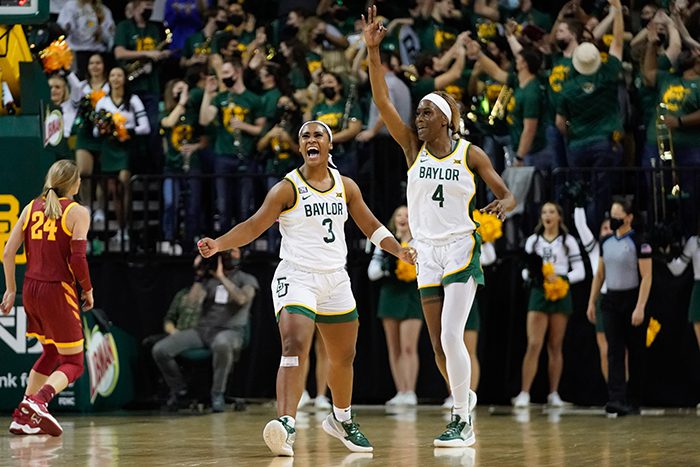 The Baylor Bears remained No. 1 in the Heartland College Sports Big 12 women's basketball power rankings for March 6. These are our final power rankings of the season.
1. BAYLOR (25-5, 15-3; Last Week: 1)
The Bears have won 10 straight games going into the Big 12 Tournament and won their 12th straight Big 12 regular-season title. No team has more momentum going into Kansas City than the Bears, who have their eyes on rising up to a No. 1 seed in the NCAA Tournament.
2. TEXAS (23-6, 13-5 in Big 12; Last Week: 2)
The Longhorns are on a eight-game winning streak and just shut down the Frank Erwin Center (the Super Drum) in front of a crowd of more than 10,000 fans on Saturday. If any team can take the Bears down in Kansas City, it's the Longhorns, who lost both of their regular-season meetings with Baylor.
3. IOWA STATE (25-5, 14-4; Last Week: 3)
The Cyclones had their last chance to prove they were worthy of a Big 12 regular-season title but were unable to beat the Bears last week. Still, the Cyclones can win the Big 12 Tournament. But Iowa State will probably need to beat the two teams in the Big 12 they haven't beaten yet — Baylor and Texas — in order to do it.
4. KANSAS (20-8, 11-4; Last Week: 5)
Just when you thought the Jayhawks were going to come up winless in their late-season tour of Big 12 ranked teams, they beat Oklahoma on Saturday. The Jayhawks and the Sooners face each other again on Friday in KC to determine who wins the season series.
5. OKLAHOMA (23-7, 12-6) (Last Week: 4)
The loss to Kansas was a bad way for the Sooners to end the regular season. But, OU gets a chance to avenge that loss on Friday, and that likely sets up a semifinal game with Baylor, a team the Sooners have swept this season.
6. WEST VIRGINIA (14-14, 7-11; Last Week: 7)
The Mountaineers enter the Big 12 Tournament having won three of their last four games, including a mid-week win over Kansas State. The Mountaineers get TCU in the first round in Kansas City on Thursday, and a .500 or better record by the tournament's end might be enough to sneak WVU into the WNIT.
7. KANSAS STATE (19-11, 9-9; Last Week: 6)
Kansas State lost that game to West Virginia in double overtime and ended the season with a win over TCU. Whatever happens in KC, the Wildcats are dancing. The only question is whether they have enough momentum to win a game in the Big 12 Tournament, or the NCAA Tournament for that matter?
8. TEXAS TECH (11-18, 4-14; Last Week: 9)
The Lady Raiders did Senior Night right at mid-week with a victory, and the Lady Raiders could end up claiming a win in Kansas City before moving on to the quarterfinals.
9. OKLAHOMA STATE (8-19, 3-15; Last Week: 9)
The Cowgirls have lost their last five games and are preparing to face Texas Tech in the first round. It's been a hard season for OSU.
10. TCU (6-21, 2-16; Last Week: 10)
The Horned Frogs are on an 13-game losing streak entering Kansas City. It may be a short trip this week.
You can find Matthew Postins on Twitter @PostinsPostcard.