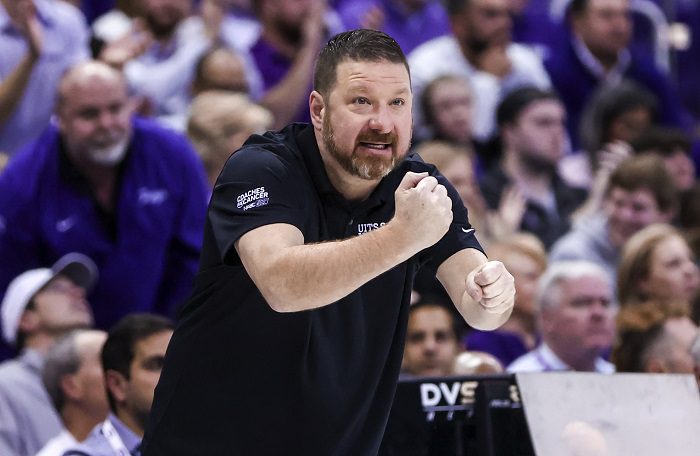 Here is everything you need to know about the TCU Horned Frogs and the Texas Longhorns in our TCU vs. Texas Big 12 Tournament men's basketball preview.
Game Info
Game 2: No. 5 TCU (19-11, 8-10) vs. No. 4 Texas (21-10, 10-8), 11:30 a.m. CT, ESPN/2
Season series (Texas 2-0): Texas def. TCU, 73-50, in Fort Worth, Texas, on Jan. 25; Texas def. TCU, 75-66, in Austin, Texas, on Feb. 23.
Winner gets: a Friday game with the winner of Game 3 at 6 p.m. on Friday.
Projected starting lineups
TCU: G Mike Miles, G Damion Baugh, G Chuck O'Bannon, F Emanuel Miller, C Eddie Lampkin.
Texas: G Marcus Carr, G Andrew Jones, G Courtney Ramey, F Christian Bishop, F Timmy Allen.
Player to watch
TCU: G Mike Miles
The sophomore made the Heartland College Sports All-Big 12 Second Team after he averaged 15.1 points, 3.5 rebounds and dished out 107 assists as he helped TCU win nearly 20 games in the regular season. Miles has NBA aspirations, and scouts are interested. But right now his focus is on helping the Horned Frogs overcome the Longhorns, a team they failed to beat twice this season. If TCU wins, it will be in part because the Longhorns are unable to slow Miles down.
Texas: F Christian Bishop
The Longhorns went to Bishop in the starting lineup in Big 12 action, mainly to take advantage of his rebounding. And he's delivered. He finished the season averaging 5.5 boards, and he hit double-digit rebounds in three of his final eight games. While he only scores 6.8 points per game, he is capable of hitting double figures. In fact, he had a double-double against Baylor — 13 points and 11 rebounds. The Longhorns like his grittiness, and his scoring is a nice bonus.
Key storylines
TCU
Head coach Jamie Dixon had an enormous task entering the season — replacing nearly his entire roster after most of it transferred away. Like his counterparts at Iowa State (T.J. Otzelberger) and Texas Tech (Mark Adams), Dixon leaned on a mix of mid-major starts looking for a promotion and under-used high-major players looking for a chance. It took longer for Dixon to put the pieces together, but after a huge home win over LSU during the Big 12-SEC Challenge, things started to come together for the Horned Frogs. Back-to-back wins over ranked Texas Tech and Kansas means these Frogs can be a problem for anyone in the tournament.
Texas
Chris Beard's first season as head coach has led to Texas becoming one of the best defensive teams in the country, as the Longhorns give up just 59.5 points per game. But, in some ways, that's come at the expense of the Longhorns' offense, which has run hot and cold all season. Still, all five starters managed to earn some kind of Big 12 accolade, and forward Timmy Allen was on the Heartland College Sports All-Big 12 Second Team. Texas never won more than three straight games and never lost more than two straight. The Longhorns are the definition of a team that could go on a run in Kansas City or could leave on Friday.
Fun Fact
TCU has lost its last seven meetings with Texas in a rivalry that has been played since 1915.
Prediction
TCU 67, Texas 64. The Horned Frogs will get win No. 20 of the season, thanks to a huge game from Miles.
You can find Matthew Postins on Twitter @PostinsPostcard.