Uncategorized
Bob Bowlsby: College Football Playoff Expansion Will Only Get Harder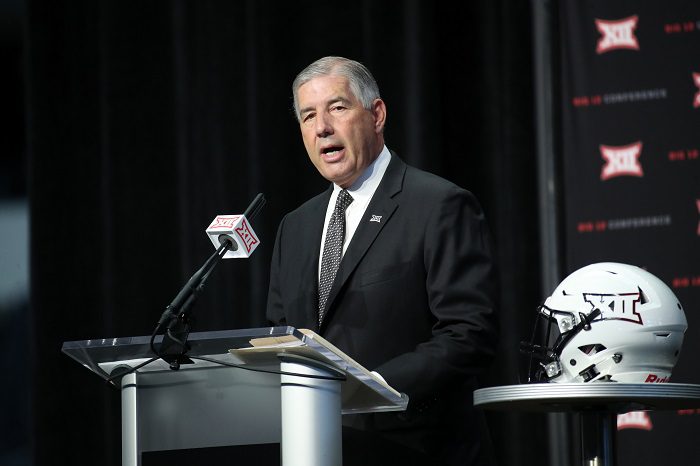 College Football will not be expanding anytime soon, at least not for another four years; that much we have reluctantly come to terms with. It's not what any of us wanted to hear, but whether we like it, or not, the College Football Playoff will remain a four-team invitational until 2026.
However, if you think the next time that negotiations are tabled about expanding will go over smoothly, you may want to think again. According to several of those who are sitting at the table to vote, this is far from being resolved and may only get more difficult as time goes on.
"I think any image of smooth water ahead is simply a mirage," Big 12 commissioner Bob Bowlsby told CBS Sports.
"If we can't make decisions because of uncertainty," SEC commissioner Greg Sankey added, "we will never make decisions."
The Playoff needs an 11-0 vote to expand, and as things currently sit, it's a split decision of 8-3. The Big Ten, Pac-12, and ACC were those who opposed expansion and used several factors to back up their reasoning, including concerns with the future of the NCAA.
Lawsuits are currently in place that could see players directly compensated for playing college football by 2026 when the current CFP contract is up. That, along with TV deals, conference realignment, and player safety concerns all formed a big elephant in the room that has yet to be addressed. Essentially, the group of individuals responsible for this halt of progress have decided to just kick the can down the road and put off the issues at hand. Dennis Dodd of CBS Sports captured Bob Bowlsby's thoughts on the matter perfectly.
"The silly part of it is we're really not deciding anything, we're just delaying [the debate]," Bowlsby said. "We've got that exclusive window. We're only 30 months from it now. We're going to have to engage well in advance of that."
"I fail to believe there is any time in the future that presents less controversy right now," Bowlsby added. "The more pieces of the challenge we can resolve, the better off we're going to be. [Expansion is an issue] we could have — and should have — gotten behind us."