featured
K-State Spring Football 2022: Three Things to Watch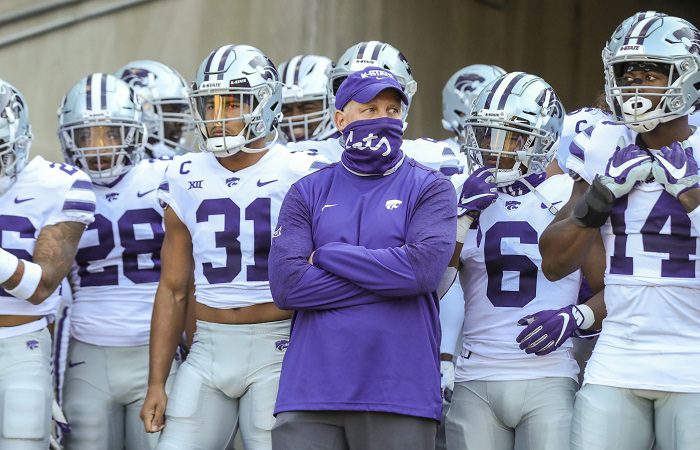 Things in Manhattan, Kansas, have been pretty quiet since the Wildcats thumped LSU in the Texas Bowl two months ago and that's just how Chris Klieman wants it.
The Wildcats have a strong supporting cast coming back from an 8-5 finish in 2021, plus they've added some key transfers along the way.
The Wildcats will kick off their spring practices on March 8th and have yet to announce a date for the Spring Game. With that in mind, here are three things that you should be watching for throughout K-State spring football.
Can Adrian Martinez Limit Turnovers?
This will likely be the biggest storyline for the Wildcats next season, and if the answer is yes, then K-State could be a dark horse contender for the Big 12 title. Martinez is a dynamic playmaker and has a skill set that Chris Klieman and offensive coordinator Collin Klein can use to take the Wildcat offense to another level. Heisman hopeful Deuce Vaughn will likely be the focal point of their attack, as he should be, but Martinez's ability to stretch plays with his mobility and get downhill as a runner will make this offense tough to handle as long as he can keep the ball away from opponents. Just how big of an issue are turnovers for Martinez? Well, in 38 career games he has thrown 30 interceptions and fumbled 34 times, losing 18 of those fumbles. You can bet money that ball security will be priority 1a and 1b for the Nebraska transfer this spring.
Which Transfers will Make an Impact?
The obvious answer here would be Martinez, but I want to focus on the defensive side of the ball for this question. Of the five incoming transfers for K-State, four of them are on the defensive side of the ball. The loss of Justin Gardner and Reggie Stubblefield has left a hole in the secondary, but bringing in Joshua Hayes (Virginia) and Shawn Robinson (Missouri) in should help fill the void. Both have interesting stories, as Hayes formerly played under Klieman at NDSU, while Robinson was originally a five-star quarterback recruit out of high school but made the transition to safety in Columbia. At linebacker, the Wildcats added Will Honas (Nebraska) and Branden Jennings (Maryland), both of whom can make an impact right away. If two or three of these transfers carve out a significant role in the 'Cats defense it would go a long way.
Can Collin Klein Replicate his Texas Bowl Success?
Courtney Messingham was Chris Klieman's offensive coordinator for three seasons at K-State, and worked under him prior to that at NDSU. When he got the boot after the 2021 regular season, K-State legendary quarterback Collin Klein stepped in as the interim play-caller for the TaxAct Texas Bowl. Under his leadership, the Wildcats carved up LSU for 42 points, their highest total since October 24, 2020. After the bowl game, Klein was promoted to full-time offensive coordinator and will now be the coach under the biggest microscope in Manhattan. Offense has been the problem for Kansas State in recent years, and if they can figure it out they will be a bonafide contender in the Big 12. Look for the Wildcats to focus on a strong run game with Vaughn and Martinez, coupled with a vertical play-action attack. If Klein can help Martinez replicate what he did for K-State in 2011-12, the Wildcats will be a problem in 2022.