Trending Now
Kirk Herbstreit Expected to Land Amazon's Thursday Night Football Gig: Report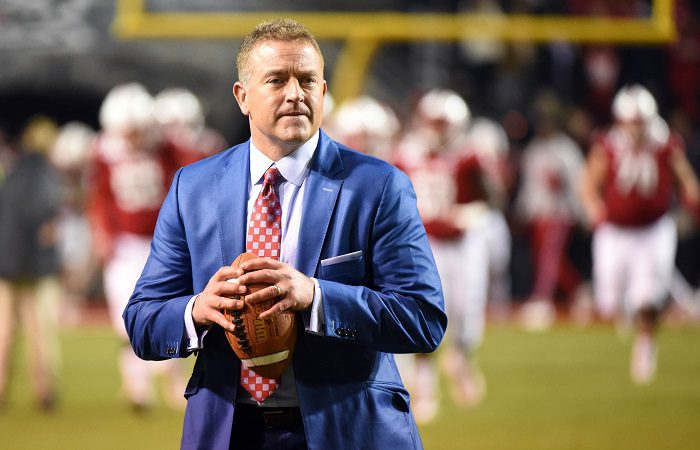 College football analyst Kirk Herbstreit might have more than just college football on his plate going into 2022.
According to NBC Sports' Peter King, Amazon has "settled on Herbstreit" to serve as their in-game analyst for Thursday Night Football.
Now, it is important to note that while Herbstreit will likely be involved with TNF, it will not affect his duties pertaining to college football with ESPN. He has been a major part of ESPN College Gameday for the better part of two decades and is synonymous with the college game at this point.
Here is King's excerpt on Herbstreit joining Thursday Night Football:
"I heard last night that Amazon—spurned by Troy Aikman, Sean McVay and John Lynch—has settled on ESPN's Kirk Herbstreit to be the analyst on its Thursday night package of NFL games starting this fall. (He's likely to continue his current ESPN/ABC duties as well.) Andrew Marchand of the  New York Post was first to connect the Amazon-Herbstreit dots on Feb. 27.
"My first reaction: It seems weird. Amazon would rather have a very good college football analyst who's never had a regular NFL job do the games than, say, Drew Brees or Sean Payton or Kurt Warner? My second reaction: Herbstreit's a pro, he's a big name to legions of college football fans, he must really want to break the college-to-NFL glass ceiling, Amazon surely wanted to make a splash with this hire, and Herbstreit's a non-status-quo guy. He's different. It's a little edgy, a little risky. All that, just my educated guess.
"We're still awaiting decision from two of the great play-by-play people of our lives, Al Michaels and Joe Buck, on their 2022 homes. But when you stream Amazon this fall to watch the Thursday night package, you'll be hearing a new NFL voice, Kirk Herbstreit, interpret the games."