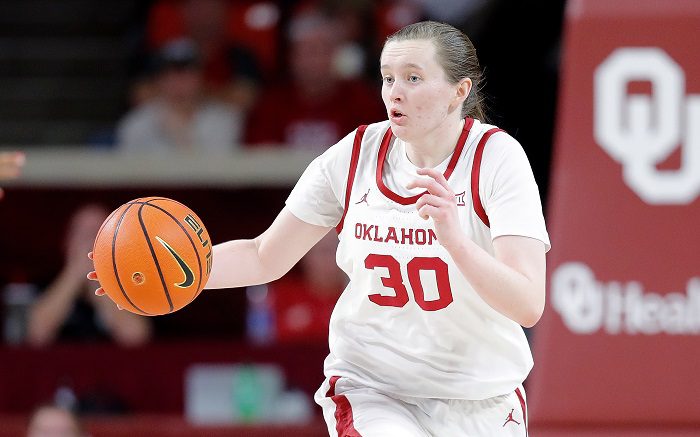 Oklahoma guard Taylor Robertson is one of five finalists for the Ann Meyers Drysdale Shooting Guard of the Year Award which were announced on Tuesday.
Robertson is the Oklahoma and Big 12 record-holder for most career 3-pointers, milestones she achieved this season. She was also named to the Heartland College Sports All-Big 12 Second Team and the All-Big 12 Coaches First Team.
This is the first time Robertson has been a finalist for the award. She was on the award's Top 10 list last season.
Robertson enters the postseason with 432 made 3-pointers in her career, 65 short of the NCAA record. This season she leads the country in 3-pointers with 110 and is 45.1 percent, which is the fourth-highest percentage in the country. She is the first player in Big 12 history to post three seasons of 100-plus 3-pointers.
She is the only finalist to average 16 points, four rebounds and three assists per game.
The Meyers Drysdale Shooting Guard of the Year Award is named after the first player, male or female, named to an All-America team in four straight seasons and who was named Player of the Year during her senior year at UCLA. While still at UCLA, she started on the first women's Olympic team in 1976. After an All-America career, she became the first player drafted into the Women's Basketball League, earning WBL MVP and making history by becoming the first female player to tryout with an NBA team, the Indiana Pacers, with whom she signed a free agent contract.
2022 Drysdale Shooting Guard Award Finalists
(Big 12 Players in Bold)
Sonya Morris, DePaul
Kierstan Bell, Florida Gulf Coast University
Christyn Williams, UConn
Taylor Mikesell, Ohio State
Taylor Robertson, Oklahoma
You can find Matthew Postins on Twitter @PostinsPostcard.