Baylor Bears
Big 12 Baseball Power Rankings: Texas, Texas Tech Lead the Way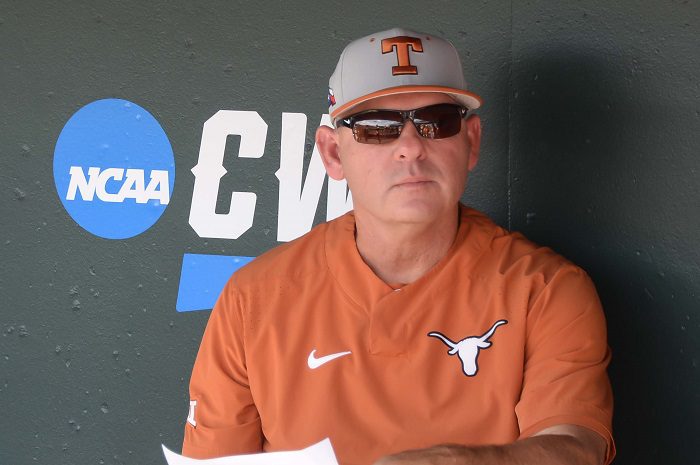 It has been a fun start to the college baseball season and as we approach conference play in a few weeks, teams are still trying to figure themselves out a bit. Of course, some teams have looked the part while other have struggled. A lot can change in a few days but here are my Big 12 baseball power rankings.
1. Texas Longhorns
This one should be fairly obvious considering the Longhorns are the number one team in the country. They suffered their first loss of the season on Sunday against UCLA, but they had to make a pitching change before the game for precautionary reasons. When the rotation of Pete Hanson, Tanner Witt, and Tristan Stevens are healthy this will be one tough team to beat in a three-game series.
2. Texas Tech Red Raiders
Before Tuesday night against Mississippi State, the Red Raiders were on an eight-game win streak. In their four games this past weekend against Merrimack, Texas Tech outscored them 70-12. I know Tech hasn't beaten a true quality opponent yet in a series, but I really like the hot bats they have with Jace Jung, Parker Kelly and a few others.
3. Oklahoma State Cowboys
When this team won a series in Nashville against a top five Vanderbilt team, I was impressed. But last weekend was inexcusable as they were swept by Gonzaga. The pitching has been there with this team however in their series against Gonzaga, they scored a total of five runs.
4. TCU Horned Frogs
 Despite dropping a series to Kentucky, I still am a believer in the Horned Frogs. Their pitching has been iffy at times, but they have some solid bats on that team. David Bishop, Tommy Sacco, and Brayden Taylor are good players any ball club would be lucky to have.
5. Baylor Bears
I may have given up on this team a bit early because after they got swept by Maryland on opening weekend, this team has turned the corner. They beat a top 25 Duke team earlier in the year and also won two games in the Shriners Tournament down in Houston. Pitching has been key for them led by Tyler Thomas as the Bears have given up the third fewest runs in the Big 12.
6. West Virginia Mountaineers
This was a team who I thought had a chance to crack the top 25 but unfortunately, they left Minnesota with a bad taste in their mouths after a disappointing weekend. Early on in the season the Mountaineers were scoring runs left and right and now they haven't been so easy to come by. Pitching has also been an issue at times but when their bats get hot, this could be a dangerous team who can make some noise in the conference.
7. Oklahoma Sooners
I will be honest with all of you folks. There is a good size drop off after the number six spot in the Big 12. Most people around the conference know the name Peyton Graham and he is a great player, but he needs more around him. Pitching has been an issue with this team and at times, they struggle to score at all. This was a team who I thought could get better this year, but I may have been wrong to think that.
8. Kansas Jayhawks
There isn't much to say about this team because they have so many issues on the mound. They have given up a bunch of runs and have the second worst ERA in the entire Big 12. I know they haven't been great at the plate either but until they get things figured out on the mound, they will be a cellar dweller.
9. Kansas State Wildcats
I wanted to be a believer in this team this year but after losing Jordan Wicks, they have struggled. Much like Oklahoma, this was a team who I thought could maybe take that next step, but it doesn't look like it is going to happen. The good news is that they won their first series this past weekend, but it was against a bad team. Between the pitching and errors, Kansas State will need to clean a few things up to move from the bottom of this list.
10. Iowa State Cyclones
The bad news is that Iowa State is ranked tenth on my list, but the good news is that they are still undefeated this season. However, they don't have any wins either.