Big 12 Basketball
Texas Tech vs. Oklahoma State Women's Basketball Preview and Prediction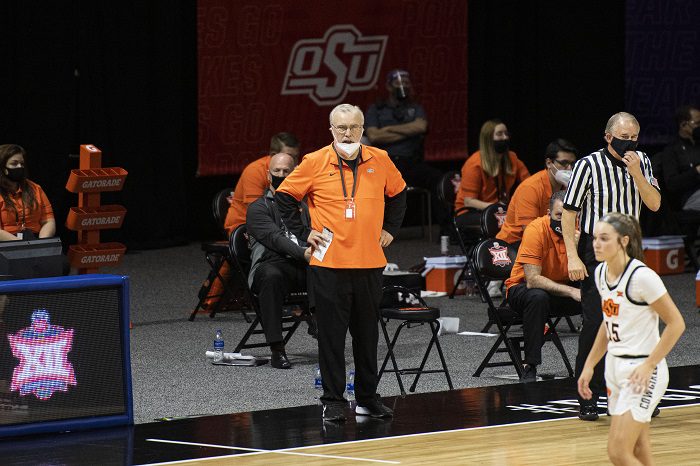 Game 1: No. 9 Oklahoma State (8-19, 3-15) vs. No. 8 Texas Tech (11-18, 4-14), 5:30 p.m. CT Thursday, Big 12 Now/ESPN+
Season series (Oklahoma State 2-0): Oklahoma State def. Texas Tech, 57-55, in Lubbock, Texas, on Jan. 8; Oklahoma State def. Texas Tech, 62-58, in Stillwater, Okla., on Feb. 12.
Winner gets: a Friday game with No. 1 seed Baylor at 1:30 p.m. CST
Projected starting lineups
Oklahoma State: G Lauren Fields, G Lexy Keys, G Micah Dennis, F Taylen Collins, C Kassidy De Lapp.
Texas Tech: G Vivian Gray, C Ella Tofaeono, G Lexy Hightower, F Taylah Thomas, F Bryn Gerlich.
Player to watch
Oklahoma State Lauren Fields: She just earned All-Big 12 Second Team honors from the coaches. Fields finished the season with 15.8 points per game, sixth in the Big 12. She was also second in the Big 12 with 2.5 steals per game. She was also in the Top 10 in the Big 12 with 1.8 made 3-pointers per game and blocked nearly a shot per game. She's OSU's best two-way player and the focal point of everything the Cowgirls do.
Texas Tech G Vivian Gray: She was named to the Heartland College Sports All-Big 12 First Team after another great year that was curtailed a bit due to early injuries. Gray averaged 20.2 points and 5.2 rebounds per game entering Kansas City, and she also has 51 assists, a team-best 42 steals and 23 blocked shots. She is the fourth player in conference history to be a four-time All-Big 12 selection joining Courtney Paris (Oklahoma, 06-09), Brittney Griner (2009-2013) and Odyssey Sims (2010-14).
Key storylines
Oklahoma State: The Cowgirls were coming off an NCAA Tournament appearance, but things never quite came together for OSU. The Cowgirls had to deal with a significant COVID-19 pause in December, and despite an early win over Texas Tech in Big 12 play, the Cowgirls lost eight straight to take themselves out of the running to get out of the first day of the Big 12 Tournament. Meanwhile, head coach Jim Littell is out the door after the Big 12 Tournament, as he and the athletic department are parting ways.
Texas Tech: There was early optimism around the Lady Raiders, even if Gray and transfer Bre'Amber Scott were not able to play early on due to injuries. By Big 12 play, Texas Tech was over .500 and feeling good after upsetting then-No. 9 Texas on the road on Jan. 5. In fact, Tech beat three Top 25 teams this season. Unfortunately the Lady Raiders were only able to win four league games. The Lady Raiders won't have Scott's services in Kansas City, as she was shelved for the rest of the season last month.
Fun Fact
Texas Tech was the only team Oklahoma State swept in Big 12 play this season.
Prediction
Texas Tech 73, Oklahoma State 67. I won't rule out the Cowgirls trying to win one for Littell. But the Lady Raiders can lean heavily on Gray, who wants to extend her college career as long as possible.
You can find Matthew Postins on Twitter @PostinsPostcard.