Big 12 Basketball
Kansas State Basketball: Five Thoughts to Wrap Up the 2021-22 Season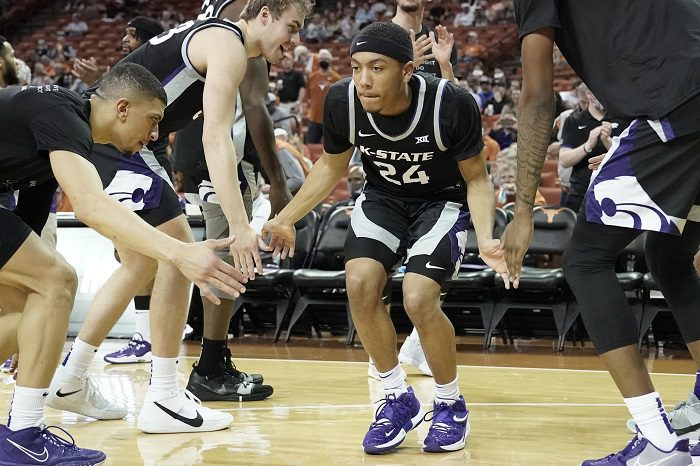 The Kansas State Wildcats' men's basketball season is done. Here are five thoughts about the 2021-22 season and what's ahead for the basketball program.
The Season
The Wildcats went into Big 12 play hoping to avoid a third straight losing season. And, there was a point, where it looked possible. On Valentine's Day, of all days, the Wildcats were 14-11 and coming off a win over West Virginia. In fact, K-State had won four of their previous five games. And, then, the bottom fell out. The Wildcats lost five straight to end the regular season, including games to unranked Oklahoma State and Oklahoma. Then came the Big 12 Tournament loss to West Virginia in Kansas City. Then, the next morning, head coach Bruce Weber resigned. The turnaround the Wildcats were hoping for didn't quite materialize.
Who's Leaving?
Good question. Who knows what will happen with a coaching search? But, according to Kansas State's roster, guard Drew Honas, guard Mike McGuirl and forward Mark Smith are all either seniors or fifth-year seniors. McGuirl and Smith are out of eligibility. Honas is a walk-on. The Wildcats will miss McGuirl's overall experience and Smith's exceptional rebounding. Smith averaged 12.7 points and a team-leading 8.4 rebounds.
Who's Coming Back?
According to the roster, the Wildcats can expect to have back their All-Big 12 First Team guard Nijel Pack, who averaged 17.4 points. Likewise, his running buddy, guard Markquis Nowell, is a junior and averaged 12.4 points. They may be one of the shortest guard tandems in the country, but they're a great foundation to build from. Forward Ishmal Massoud gives the Wildcats three returning starters. Plus, there's guard Selton Miguel (who has started at times), forward Carlton Linguard Jr., forward Seryee Lewis (who rehabbed an injury all season), guard Luke Kasubke, guard Trey Harris, forward Kaosi Ezeagu, forward Jordan Brooks and forward Davion Bradford. Weber's final recruiting class is intact, too, including guard Maximus Edwards (who redshirted due to injury) and forward Logan Landers. Now, how many will consider transferring out? We'll have to see. The good news for the new coach is that there's talent there.
Who's Coming In?
The Wildcats have just one signee for 2022 — forward Taj Manning of the La Lumiere School in La Porte, Indiana. The Top 200 recruit, per 247sports.com, is 6-foot-6. He could ask to be let out of his letter-of-intent.
What to Watch For
Well, for the first time in a decade, the Wildcats have to do a coaching search. There are plenty of good candidates out there, and it will be interesting to see if athletic director Gene Taylor remains patient or moves quickly. The longer he waits, that probably means the coach he wants is still 'working,' as in the NCAA Tournament. Whoever gets the job has to make keeping Pack, Nowell and Massoud in the fold the first priority, followed by evaluating the remaining talent and working the transfer portal for whatever remaining scholarships he has. And, based on what's coming back — assuming it all comes back — there isn't much wiggle room.
You can find Matthew Postins on Twitter @PostinsPostcard.