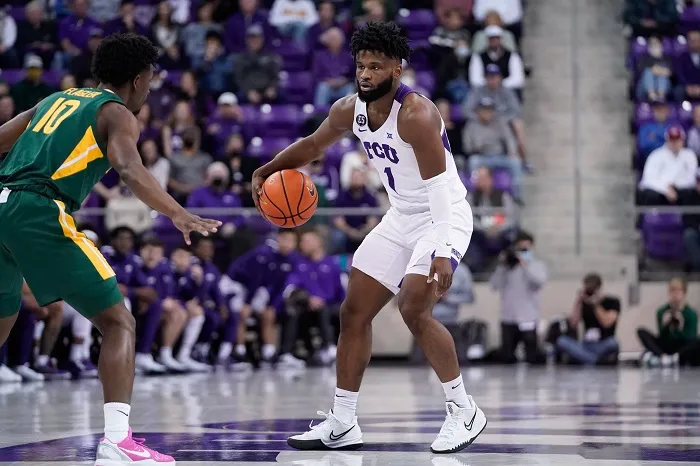 KANSAS CITY, Mo. — The Texas Longhorns went on a 20-1 run to build a 40-22 halftime lead. Then the TCU Horned Frogs erased that run with less than eight minutes to play.
And then the REAL game started.
And it ended with a go-ahead lay-up by TCU forward Eddie Lampkin with 38 seconds left, helping the No. 5 seeded Horned Frogs to a 65-60 victory over the No. 4 seeded Texas Longhorns on Thursday at the Big 12 Tournament.
Lampkin's layup broke a 60-60 tie. After Texas guard Marcus Carr missed a shot at the other end, TCU rebounded and threw the ball downcourt to guard Francisco Farabello, who pulled the ball out and drew a foul. He made both free throws to give TCU a 64-60 lead with 15.9 seconds left.
From there, Texas guard Andrew Jones missed a 3-pointer and the Horned Frogs held on for the victory.
The Horned Frogs (20-11) will face the winner of the other afternoon game between Kansas and West Virginia in the Big 12 semifinals. That game is set for 6 p.m. Friday.
It was a game of massive runs, starting with Texas' huge run to end the first half. Texas and TCU played in a bit of a fog for 15 minutes before the Longhorns scored 20 of the half's final 23 points to build a 40-22 lead on the Horned Frogs. That included a stretch in with Texas made three straight 3-pointers and held the Horned Frogs without a field goal for more than five minutes.
Then, in the second half, TCU chipped away at the Texas (22-11) lead with guards Mike Miles and Baugh.
TCU cut the Texas lead to 52-48 with 9:08 left after back-to-back 3-pointers by Miles and Baugh. On the next possession, TCU's Micah Peavy blocked a shot to set up a break toward the other end and Miles stopped at midcourt with what appeared to be a right foot injury. He needed help to get off the floor and was taken directly to the locker room. Miles, TCU's leading scorer, had 13 points at the time.
Miles did return, but it was Lampkin who became TCU's biggest contributor down the stretch, finishing with 10 points and nine rebounds. Baugh had 17 points and Miles had 13 points. Emanuel Miller had a team-high 12 rebounds, along with nine points.
Timmy Allen led Texas with 16 points while Courtney Ramey added 15 points.
Texas won both meetings in the regular season, beating TCU, 73-50, in Fort Worth on Jan. 25, and 75-66 in Austin on Feb. 23. The later meeting saw the Horned Frogs hold the lead in the second half before Texas rallied.
You can find Matthew Postins on Twitter @PostinsPostcard.