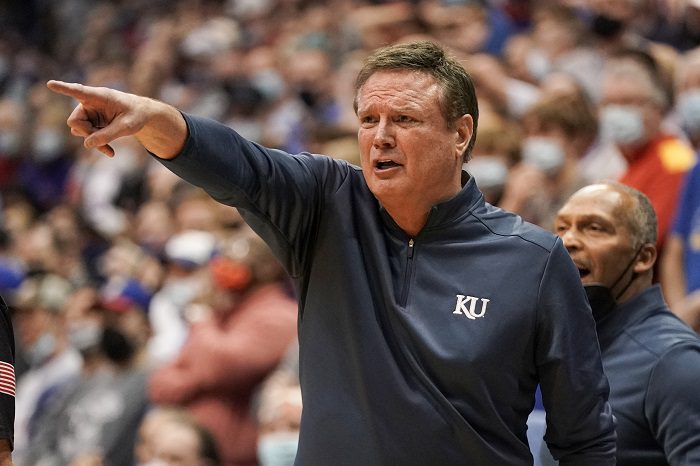 Here is everything you need to know about the TCU Horned Frogs and the Kansas Jayhawks in our TCU vs. Kansas Big 12 Tournament men's basketball preview.
Game 6: No. 5 TCU (20-11) vs. No. 1 Kansas (26-6), 6 p.m. CT, Friday
Season series (1-1): TCU def. Kansas, 74-64, in Fort Worth, Texas, on March 1; Kansas def. TCU, 72-68, in Lawrence, Kansas, on March 3.
Big 12 Tournament results: TCU: def. Texas, 65-60 (quarterfinals); Kansas: def. West Virginia, 87-63 (quarterfinals).
Winner gets: a berth in Saturday's Big 12 Championship Game.
Projected starting lineups
TCU: G Mike Miles, G Damion Baugh, G Chuck O'Bannon, F Emanuel Miller, C Eddie Lampkin.
Kansas: G Christian Braun, G Dajuan Harris Jr., F Jalen Wilson, G Ochai Agbaji, F David McCormack.
Player to watch
TCU G Mike Miles: The sophomore made the Heartland College Sports All-Big 12 Second Team after he averaged 15.1 points, 3.5 rebounds and dished out 107 assists as he helped TCU win nearly 20 games in the regular season. Miles and the Horned Frogs won Game No. 20 in beating Texas, but Miles suffered an ankle injury during the game. He did return and scored 13 points. He did not make it sound like the injury would keep him from Friday's game. Miles has NBA aspirations, and scouts are interested. The Horned Frogs are a lock to reach the NCAA Tournament, and Miles is the biggest reason why.
Kansas G Ochai Agbaji: Agbaji had a fine start to the Big 12 Tournament on Thursday, as he finished with 18 points as the Jayhawks cruised to a victory. He is on the final ballot for the National Player of the Year award and was the Big 12 Player of the Year selection by Heartland College Sports, the Big 12's coaches and the Associated Press. He's a presumed lottery pick for the NBA Draft, but for now he's set on trying to get the Jayhawks to the Final Four. Entering the Big 12 Tournament he was averaging 19.8 points, 5.2 rebounds, 1.7 assists and is playing 35 minute per game. He's one of the country's top 3-point shooters, too.
Key storylines
TCU: Head coach Jamie Dixon had a big challenge on Thursday — helping his Horned Frogs overcome an 18-point halftime deficit, which ballooned to 20 at one point. And TCU did it, beating Texas, thanks in part of the play of center Eddie Lampkin (10 points, nine rebounds). The game was emblematic of the challenge Dixon faced this season — replacing nearly his entire roster after most of it transferred away. He leaned on a mix of mid-major stars looking for a promotion and under-used high-major players looking for a chance. It took longer for Dixon to put the pieces together, but after a huge home win over LSU during the Big 12-SEC Challenge, things started to come together for the Horned Frogs. As the Horned Frogs just proved, they can be a problem for anyone in Kansas City or in the NCAA Tournament.
Kansas: David McCormack started for the Jayhawks on Thursday night, but didn't play much, a nod to how head coach Bill Self wants to try and ease him into the Big 12 Tournament. Self wasn't energized about the way McCormack played, but some of that was due to the injury. The Jayhawks ended up with an easy win over West Virginia, one that allowed Self to balance minutes and get additional players extra playing time. That could be useful against TCU and, frankly, for the rest of the Big 12 Tournament. Right now, Kansas is in line for a No. 1 seed in the NCAA Tournament. If the Jayhawks can win the Big 12 Tournament, they should get it. If they can get to the championship game, they should have a good chance regardless of the result, especially if there's a little chaos at the other Power 5 conference tournaments.
Fun Fact
Kansas is trying to win its first Big 12 Tournament since 2018. TCU's first win over a No. 1 ranked team came in the 2017 Big 12 Tournament quarterfinals against … Kansas.
Prediction
Kansas 78, TCU 74. This will be their third meeting in 10 days. Expect a slugfest, with Christian Braun hitting a big shot to win.
You can find Matthew Postins on Twitter @PostinsPostcard.