Baylor Bears
Baylor Doesn't Drop off No. 1 NCAA Seed Line After Loss: ESPN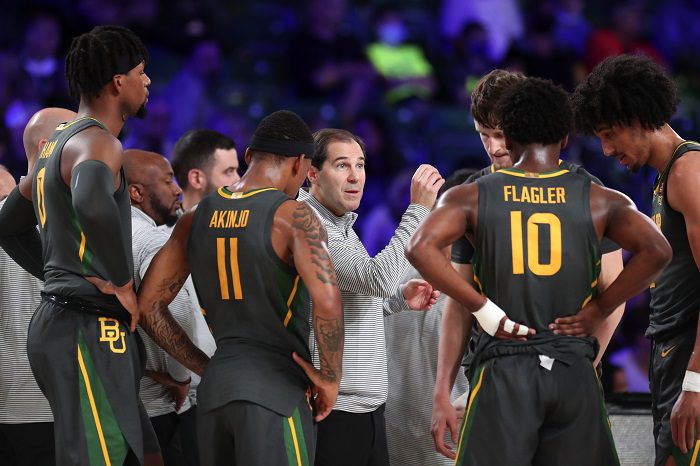 KANSAS CITY, Mo. — The Baylor Bears didn't drop off the No. 1 seed line despite their loss to Oklahoma, at least according to ESPN's updated Bracketology.
The Bears (26-6), the No. 2 seed in the Big 12 Tournament, got an early shower to begin preparations to defend their NCAA crown. The question after the loss was whether the Bears might lose a No. 1 seed because of their early exit.
As of early Thursday night, when ESPN updated its 68-team field, the Bears were still on the No. 1 seed line, playing Norfolk State in a first-round game in Fort Worth next week.
But that doesn't mean the Bears will stay there.
Bears head coach Scott Drew, who can recite Ken Pomeroy rankings as if they're scripture, knows a lot can happen between now and Selection Sunday.
"I think a lot depends on the other teams and what happens with them," Drew said on Thursday. "It takes us controlling our own destiny away, and as teams, players, you always want to have the opportunity to control your own destiny. We will see what happens from there."
ESPN's Joe Lunardi backed up Drew's logic on Thursday morning.
The Kansas Jayhawks were also a No. 1 seed in the updated field, and the Jayhawks are still playing. They're preparing to face TCU in the first Big 12 semifinal on Friday. Texas Tech and Oklahoma face each other in the other one. The other two No. 1 seeds were Gonzaga and Arizona. The Bulldogs have already won the West Coast Conference Tournament, and the Wildcats are playing in the Pac-12 Tournament this weekend.
Drew likes his team's credentials, even if he can't do anything more this week to improve them.
"The one thing that we do have is the most Quad 1 wins, and at the end of the day, I know the NCAA values Quad 1 wins and your ability to control your non-conference schedule," Drew said. "Obviously we have played a great non-conference schedule that gave us that opportunity and did a good job in that non-conference."
Before Thursday's loss, Baylor was No. 3 in NCAA NET ratings with 10 Quad 1 wins, tied for the most with Gonzaga. Baylor's non-conference schedule included wins over Stanford, Michigan State, Villanova and Oregon. Baylor's only non-conference loss was to Alabama.
You can find Matthew Postins on Twitter @PostinsPostcard.