Baylor Bears
Big 12 Baseball: Weekend Preview as No. 1 Texas Heads to SEC Country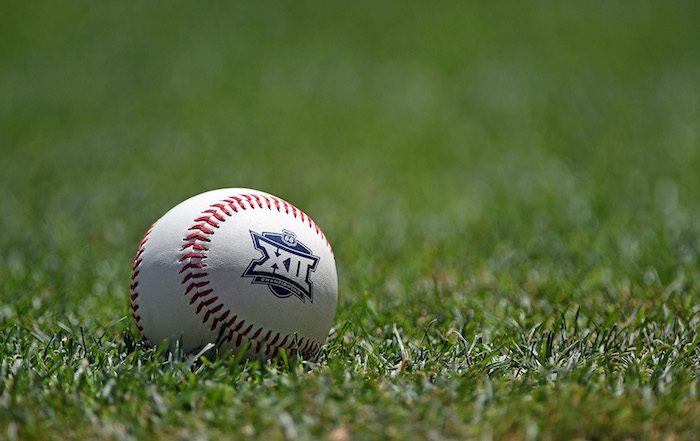 College Baseball is back in full swing as we have just finished with the third full week of action. After a wild weekend last week, we are back again for another jam-packed weekend with plenty on the line.
This upcoming weekend we have a few series to keep an eye on and a couple of key matchups.
Notable Games
#1 Texas at South Carolina
The number one ranked team in the country is headed to SEC country to take on the Gamecocks in a three-game series starting on Friday night. While the Longhorns have a strong pitching rotation, they will be without starter Tanner Witt, as he will miss the rest of the 2022 season due to an injury. South Carolina is a team some thought could be good this season, but they have struggled as of late dropping their last four games. They have had some series pitching issues giving up the most runs in the SEC and have one of the weakest offenses in the SEC as well. Texas should have no problem winning this series on the road, but it could get interesting if the series comes down to a Sunday game.
#6 Oklahoma State vs BYU
This series was supposed to be played out in Provo but due to some weather issues, they have moved it to Arlington. After getting swept by a West Coast Conference team in Gonzaga last weekend, the Pokes will be facing another opponent from that same conference in BYU. Of course, soon enough these two will be conference foes but let's save that for another time. Oklahoma State needs to get that offense going after going stale last week and BYU will be no easy out. The Cougars were picked to finish second in the West Coast Conference behind Gonzaga and bring back a ton of experience from their 2021 squad.
Other Games
Army at #21 TCU
If we are talking about teams who need a bounce-back weekend, then TCU should be at the top of that list. I know the Frogs have some great bats with Tommy Sacco, Brayden Taylor, David Bishop, and Elijah Nunez but I want to see this weekend rotation of Austin Krobb, Riley Cornelio, and Brett Walker work their magic on the mound. TCU struggled over the last few games giving up a bunch of runs and Army is someone the Frogs should sweep in my opinion. If they drop the series this weekend, then you can expect TCU to get bounced out of the top 25 by next week.
#17 Texas Tech at Rice
Out of the four top 25 teams in the Big 12, Texas Tech by far has the easiest matchup ahead. The Red Raiders travel to Houston for a three-game set against a bad Rice team. This isn't the Owls from five years ago because they are a 3-10 team who are in the bottom of Conference USA in batting averaging and have also given up 100 runs already on the season. Tech should have a field day with Rice with the hot bats of Parker Kelly, Jace Jung, Owen Washburn, and Kurt Wilson.
Columbia at Baylor
This could end up being a sneaky good series if the Bears aren't careful. Columbia has some talent, but they have been a bit shaky to start the season but keep in mind, they haven't really played this much ball since the 2019 season due to COVID-19. Up to this point Baylor has played well but it has been an odd year. They don't necessarily have a bunch of great hitters, but they have made some plays in key moments. Also, is this the series we finally see Jared McKenzie break his slump? Pitching has carried this team at times, and I look forward to seeing Tyler Thomas back on the mound this weekend.
Ohio State at West Virginia
Much like TCU, West Virginia needs a big weekend after a disappointing outing up in Minnesota last weekend. Ben Hampton and Chris Sleeper have been good on the mound for the Mountaineers, and they will need to continue that this weekend. Meanwhile they will also need to rely on the bats of Austin Davis, Victor Scott II, and JJ Wetherholt. Much like Baylor, I have a tough time putting my finger on this team sometimes, but the good news is that Ohio State is very beatable. The Buckeyes lost their entire weekend rotation from last season and haven't been very good trying to replace those guys as Ohio State is in the bottom half of the Big Ten in hitting and pitching.
UTSA at Oklahoma
After a disappointing three games in the Shriners Tournament, Oklahoma did manage to get a nice win against Dallas Baptist earlier in the week. While UTSA may seem like an easy out for the Sooners, they better be careful because the Roadrunners have some firepower in that lineup of theirs as they have five players batting over the .300 mark. They even beat a top-five Stanford team at home last week as well. It is going to be interesting seeing starters Chazz Martinez and Jake Bennett facing these bats of UTSA. However, I need to see more offense from this team. Outside of Peyton Graham and Blake Robertson, nobody has truly stepped up this season.
Central Connecticut at Kansas State
While Kansas State has played well over their last few games after a rough start to the year, they have a good matchup ahead this weekend. Central Connecticut is a talented team that brings back plenty of experience from last season. They have only played four games, but they have a solid lineup and a couple of good pitchers in Anthony Mozzicato and Jake Neuman who is their ace. Kansas State has had some issues scoring runs against quality teams, but I do like their starting combination of Blake Adams and Connor McCullough on the mound. This could be a series that is very low-scoring and should come down to the wire.
First Pitch Invitational
The Jayhawks are back on the road again and this time they are in Greenville, South Carolina in yet another tournament. They will be facing Western Carolina, Cincinnati, and Michigan State this weekend. Kansas has already been beaten by Michigan State last week but will get another crack at them again on Sunday. Meanwhile, Western Carolina should be a winnable game, but the weekend will be determined by their Saturday matchup with future Big 12 member Cincinnati. If they can get out of Greenville with two wins that would be big for the Jayhawks.