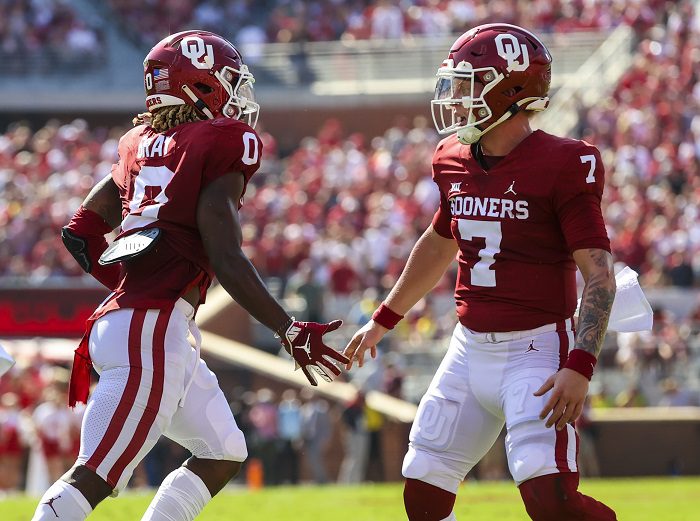 Early on, it looked like Arizona State was one of the early favorites to land former Oklahoma quarterback Spencer Rattler when he entered the transfer portal back in November.
Of course, Rattler being a native of Arizona played a part in that optimism as well, but ultimately Rattler ended up at South Carolina with Shane Beamer instead of heading to Tempe to work with Herm Edwards.
Then, the Sun Devils' three-year starter Jayden Daniels transferred to LSU earlier this month and it leaves ASU without a reliable option at quarterback.
Chris Karpman of Sun Devil Source joined 247Sports' The College Football Daily and explained what transpired to leave Coach Edwards without either one of the talented quarterbacks.
"I've spent a lot of time talking to all the people that would kind of know how the timeline unfolded," Karpman said. "Essentially what happened was Arizona State's season ended with the Territorial Cup against Arizona. Two days later, Spencer Rattler officially entered the transfer portal. ASU coaches were concerned that Jayden Daniels would either transfer or enter the NFL Draft. They were watching film of Spencer Rattler, including Herm Edwards and Antonio Pierce, when Jayden Daniels actually walked in on them doing so and that conversation took place about whether Daniels would come back. Then he had entered his name for some feedback from the NFL advisory committee about his draft stock and that led to Daniels essentially saying that he was not going to be entering the draft and then planned on returning. Rattler had been communicating with multiple members of ASU's staff and also even with Jayden Daniels directly to try to ascertain whether Daniels would be back. He had told people both on ASU's staff and also close to him that ASU would be his preferred destination, should Daniels decide that he wouldn't be back.
"Ultimately what happened was Edwards made this decision personally, that they were going to believe that Daniels was going to return based upon the things that he was saying, and that sort of preempted their decision to pursue Rattler more seriously. Then, of course, Rattler went through his process. And I think that at ASU made a miscalculation that what Daniels had said at the time would continue to be the case for the coming months and even into the next year. Which was, in my opinion, just another in a string of some bad calculus decisions that have been made by ASU's leadership."