Big 12 Previews
Iowa State vs. Texas Women's Basketball Preview and Prediction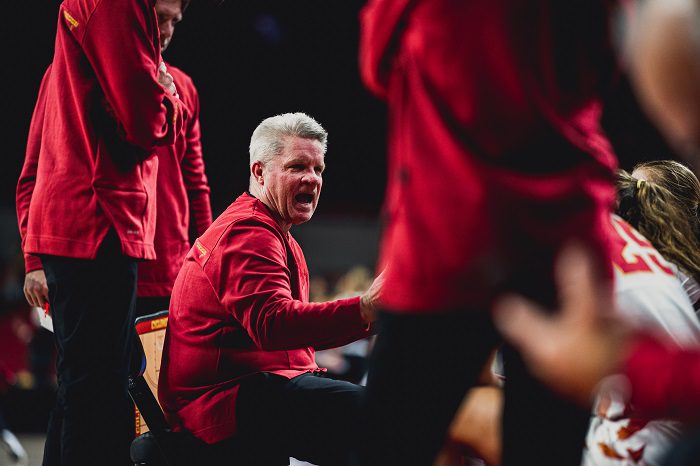 Here is everything you need to know about the Iowa State Cyclones and the Texas Longhorns in our Iowa State vs. Texas Big 12 Tournament women's basketball preview.
Game 7: No. 2 Iowa State (26-5) vs. No. 3 Texas (24-6), 2:30 p.m., Saturday (or 30 minutes after the end of Game 6)
Season series (Texas won 2-0): Texas def. Iowa State, 66-48, in Ames, Iowa, on Jan. 19; Texas def. Iowa State, 73-48, in Austin, Texas, on Feb. 16.
Big 12 Tournament results: Iowa State: def. West Virginia, 66-60 (quarterfinal); Texas: def. Kansas State, 72-65 (quarterfinal).
Winner gets: a berth in Saturday's Big 12 Championship Game.
Projected starting lineups
Iowa State: G Emily Ryan, G/F Ashley Joens, G Lexi Donarski, F Nyamer Diew, F Morgan Kane.
Texas: G Rori Harmon, G Shay Holle, G Joanne Allen-Taylor, F DeYona Gaston, F Lauren Ebo.
Players to watch
Iowa State G/F Ashley Joens: Joens had another double-double on Friday against West Virginia with 13 points and 14 rebounds, but she did it the hard way. West Virginia tried to double her all night, and there's a good chance Texas will try and do the same. Still, because of that, she's able to affect the game and open up the floor for other players. And, if you're scouting her, you have to respect her. She's the leading scorer in Iowa State history with 2,274 career points after Friday. She's No. 4 in ISU history with 1,039 career rebounds. The Heartland College Sports All-Big 12 First Team selection didn't drag down her pre-tournament averages of 20 points and 9.2 rebounds per game on Friday. Oh, and Joens didn't play in the first meeting with Texas, but she scored 18 points but only grabbed five rebounds.
Texas G Rori Harmon: Harmon had another great all-around game against Kansas State, finishing with 16 points, four rebounds, four assists and two steals. That's par for the course for the Big 12 Freshman of the Year, who was also selected to the Heartland College Sports All-Big 12 Second Team. She was also selected All-Defensive Team and All-Freshman team by the Big 12's coaches. And she deserved every single award. Head coach Vic Schaefer loves her game, and it's easy to see why. Everything Texas does offensively flows through her, and the Longhorns have now reached the point where she is their defensive catalyst, too.
Key storylines
Iowa State: Iowa State was red-hot from the 3-point line in the first half of Friday's game, starting the contest 10-of-20 from the arc and scoring 27 of its 41 first-half points that way. When they're scoring points that way, good luck. The thing is, in the second half, the Cyclones went the other way, shooting less than 20 percent and managed to hang on to enough of that lead to win. WVU got more physical, doubled Joens more frequently and challenged every play, not just every shot. Between Emily Ryan and Lexi Donarski — who combined for 28 points — ISU can overcome that. But it can be exhausting, and it can lead to turnovers (Ryan had six of them). To win this Big 12 Tournament, the Cyclones are going to have to beat at least one opponent they haven't beaten yet in Big 12 play. If they can get past Texas and the title game opponent is Baylor, then it's going to have to be two teams they haven't beaten yet.
Texas: Schaefer's hope with rejuggling his lineup last month was that he could make Aliyah Matharu more of the bench catalyst she was earlier in the season. That paid off handsomely against Kansas State on Friday. She scored 15 points — all from the 3-point line — and two of her 3-pointers late in the third quarter turned a shaky four-point Texas lead into a 10-point lead. When Matharu's confidence and shooting stroke are on, she can change the complexion of a game. Since Schaefer made all of those lineup switches, the Longhorns have won nine straight games. One shouldn't underestimate the impact forward Lauren Ebo has had, either. Her double-double on Saturday — 17 points and 10 rebounds — along with her defense on Kansas State's Ayoka Lee, was a key factor in that win, too. Lee has benefited as much from the lineup changes as anyone.
Fun Fact
Iowa State hasn't won a Big 12 Tournament title since 2001. Texas hasn't won one since 2003.
Prediction
Texas 67, Iowa State 61. At a neutral site, this should be a close game. But Iowa State hasn't found a way to solve the Longhorn defense yet. If they don't on Saturday, the Cyclones won't win.
You can find Matthew Postins on Twitter @PostinsPostcard.