Big 12 News
Jim Littell Coaches His Final Game for Oklahoma State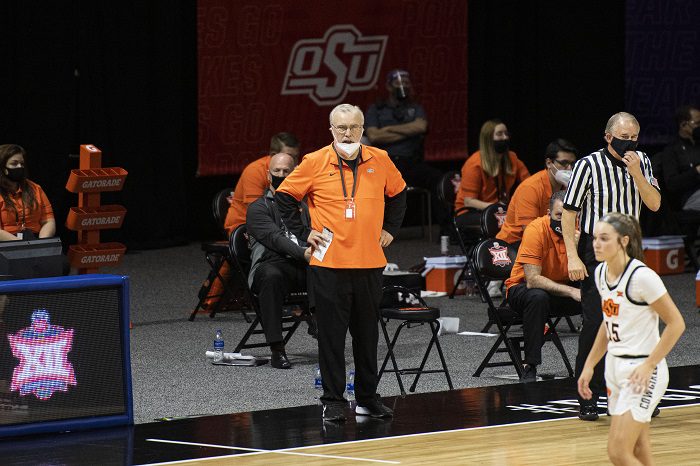 KANSAS CITY, Mo. — The words failed Oklahoma State head coach Jim Littell shortly after his Cowgirls fell to Baylor in the Big 12 Tournament quarterfinals on Friday.
No, make that former Oklahoma State head coach. With that loss, Littell's decade-long tenure as OSU's head coach came to an end.
"I've told some friends and all that, you know, tomorrow is the first time in 45 years that I didn't know what was going to happen tomorrow," Littell said.
Littell and OSU athletic director Chad Weiberg agreed earlier this week that Littell would leave the program after the end of the season.
His time in Stillwater spanned 17 years, first as an assistant coach under the late Kurt Budke, and then his 10 years as head coach succeeding Budke after his death.
It was enough time for Littell's children to grow up in Stillwater and for him to become a part of the community.
"I think about him (Budke) all the time," Littell said. "It's been my honor to try to carry on the best I can what he established and the turn-around. I choose to look at the big picture and we have had a lot of success there, NCAA Tournaments, we have had a Sweet 16, we have had a lot of really good players go through there."
Littell had been the head coach at Seward County Community College for 14 years before joining Budke at OSU. As head coach of the Cowgirls, he went 204-140 with six appearances in the NCAA Women's Basketball Tournament.
The Cowgirls were down 23-0 after the first quarter to Baylor, perhaps a bit drained after their victory over Texas Tech on Thursday. Or, perhaps just drained from the entire week.
"Coming in, playing that first game we were all — we all had a different fight going on about us," said Oklahoma State's Taylen Collins. "It was a very emotional game."
Now the emotions are a bit different for Littell. They're final now.
"I've been blessed in my career and in my life to — we have been two places in 31 years, and that's not common for any coach, football, basketball, anything there," Littell said. "Trying to look at the big picture right now and be thankful for the things that we have had."
You can find Matthew Postins on Twitter @PostinsPostcard.