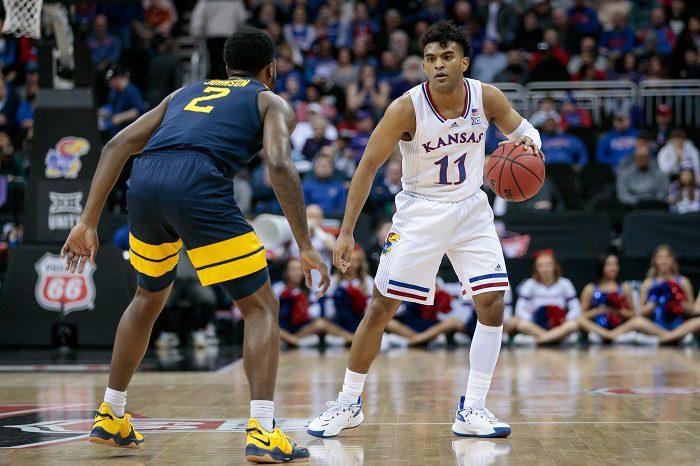 Remy Martin's season in Lawrence, Kansas has certainly not lived up to the hype after he transferred in from Arizona State with huge expectations.
Martin led the Pac-12 in scoring last season, but he's only averaged 7.0 points this season for the Jayhawks, with 2.4 assists per game.
His playing time has been stop-and-go due to a knee injury, but after playing 19 minutes in Friday night's Big 12 Tournament semifinal win over TCU, his most since a late January double-overtime win vs. Texas Tech, Martin declared during the post-game press conference, "100%. 100%. My knee is 100%."
Martin had 10 points against TCU, his highest output since scoring 15 back in mid-December against Stephen F. Austin. After the game, he sounded more like a scrappy veteran just trying to contribute rather than a guy who is a year removed from leading a Power 5 Conference in scoring.
"I felt great just being out there, doing anything I can to contribute to the win. Every time I try to go out there I try to give my best. I'm here to win a national championship. I'm here to win a tournament. So anything I do to help the team I'm fully invested in," Martin added.
Martin's 10 points are also more than he had scored in the last four games combined.
If Remy Martin can provide that depth and extra spark for Kansas in the NCAA Tournament, it's a game-changer for a team that is looking at a No. 1 seed come Selection Sunday.
Martin was named the Big 12 Preseason Player of the Year after averaging nearly 20 points per game with the Sun Devils. He had put his name into the NBA Draft, but ultimately removed it and transferred to KU.
While this season hasn't gone according to plan, Martin's attitude is clearly exactly where Bill Self and the Jayhawks should want it to be with March Madness days away from tipping off.