featured
Oklahoma Should Be In, Not 'First Four Out'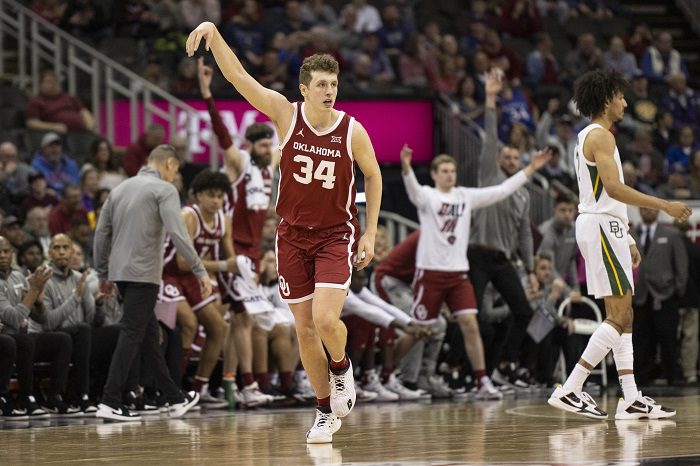 I want to preface by saying that as things currently stand, Oklahoma will likely be headed to the NIT tournament. Do I agree with it? No. Oklahoma plays in the Big 12 and has taken down some of the best teams in this conference, including their biggest win of the season last night.
The Sooners bolstered their case for a spot in the field of 68 with a massive upset of the No. 3 team in the country, a 72-67 win over Baylor. The Bears are still firmly in the conversation to be a one-seed in the NCAA tournament, and they should be. At 26-7, and coming out of the toughest basketball conference in basketball.
Last night's win gives Oklahoma 10 Quad 1 and Quad 2 victories, and their fifth win over a top 15 team, which is tied for the most in the country.
Toby Rowland, a.k.a "Voice of the Sooners" took the liberty of stacking up Oklahoma's resume against the rest of Joe Lunardi's bubble teams and it seems pretty obvious that Oklahoma should be in the tournament.
The only comparable resume I see on the list is Michigan, and they are a "Last Four Byes" on Lunardi's latest bubble projections.
Now, Oklahoma's record is the obvious "fly in the ointment," and at 18-14 (7-11) it's hard to argue in their defense. However, the argument is a lot easier when you have wins over Baylor, Texas Tech, Iowa State, Arkansas, and Florida. Plus the Sooners are on a four-game winning streak after losing arguably their best player in Elijah Harkless.
It took them a couple of games to settle in, but Oklahoma looks like a well-balanced team, even without Harkless, and is in a prime position to sneak into the tournament if they can pick up a win tonight. That will be much easier said than done though, because Texas Tech just dismantled Iowa State in a 31-point blowout last night.
Oklahoma certainly has more to play for than Mark Adams' group, but will that be enough to get past the Red Raiders in Kansas City?